There are loads and loads of VPN available for free on the Windows app store to download. But selecting a Windows VPN service is a really very crucial thing, especially when you're seeking a free version.
The best VPN handles all the data and is also responsible to keep you anonymous from the cyber world. And these things can't be leftover any free VPN. You must be choosing a reliable and well-known VPN service because compromise on a good VPN service can easily lead to compromise on your privacy.
But you don't have to worry about researching each and every VPN on the internet as I have mentioned the top 5 best VPN for PC which are best in the business and are also available for free. These free VPNs for PC also come with their premium version and you can upgrade to that any time you want. Now let's get started with the Best Free VPN for Windows.
Best Free VPN for Windows PC
The best free VPNs for Windows 10, 8, and 7 are:
1. NordVPN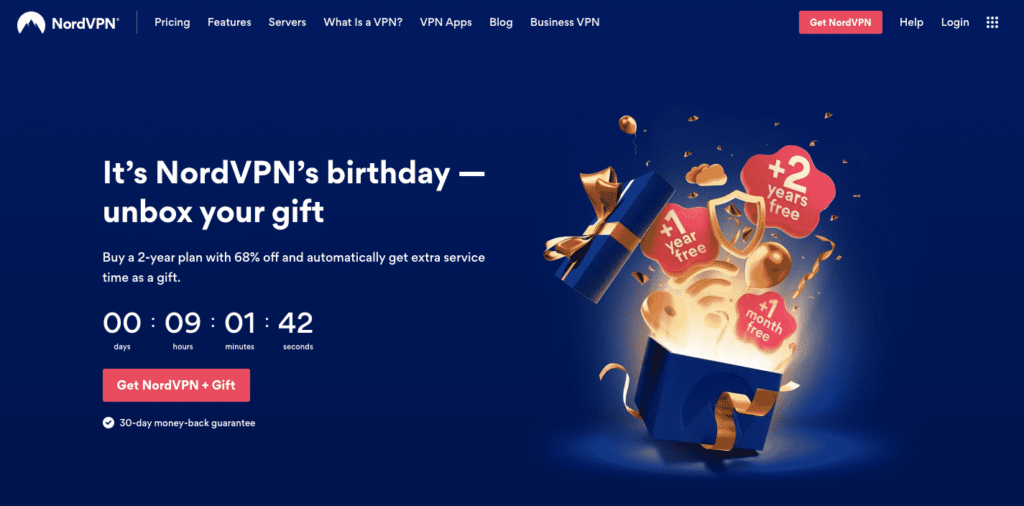 Let's start the list with NordVPN. There is no chance that if you are familiar with VPN services and have not heard about NordVPN. It is one of the most popular, cross-platform VPN which is super easy to use. NordVPN is one of the most well-known VPNs for gaining anonymity in the cyber world.
NordVPN uses Advanced Encryption Standards (AES) which is a 256bit-encryption and hence the VPN is among the most secure VPNs. It also has an automatic kill switch feature that ensures complete data protection at the time when the internet connection is lost suddenly. You can definitely trust NordVPN when it comes to security.
Along with that, NordVPN is also a great choice for Netflix lovers as the VPN provides support for Netflix account and its membership is available for purchase via cryptocurrency or cash.
2. ProtonVPN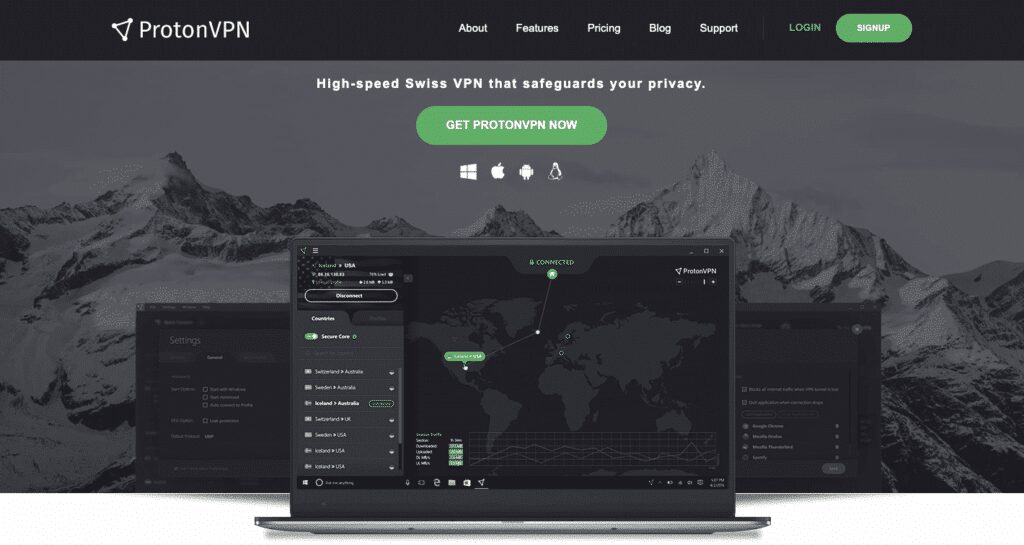 The second one on the list is the ProtonVPN. You can consider this VP as one of the most powerful VPN services for your PC. Considering the fact that it is the youngest VPN among all the listed VPNs, it doesn't make its users the same. It has a really polished and well-optimized VPN experience.
ProtonVPN follows a no-logging policy and hence there is no data that this VPN retains to itself. It also uses the best in class 256-bit encryption on the data that it transmits. It lets the user choose b/w OpenVPN, IKEv2/IPSec, and L2TP/IPSec protocols depending on what you're gonna do with the VPN connection.
Proton VPN is one of the rare free VPN for PC that provides unlimited data and bandwidth to its user. Hence even on the free plan, you'll be able to use the best-in-class encryption and other features of the VPN. However, you'll experience that the free plan is limiting your internet speed.
The prime features of this VPN include features like DNS leak prevention, ProtonMail bundle powered by a simple UI along with no speed limit, no data, and bandwidth limit.
3. Tunnel Bear VPN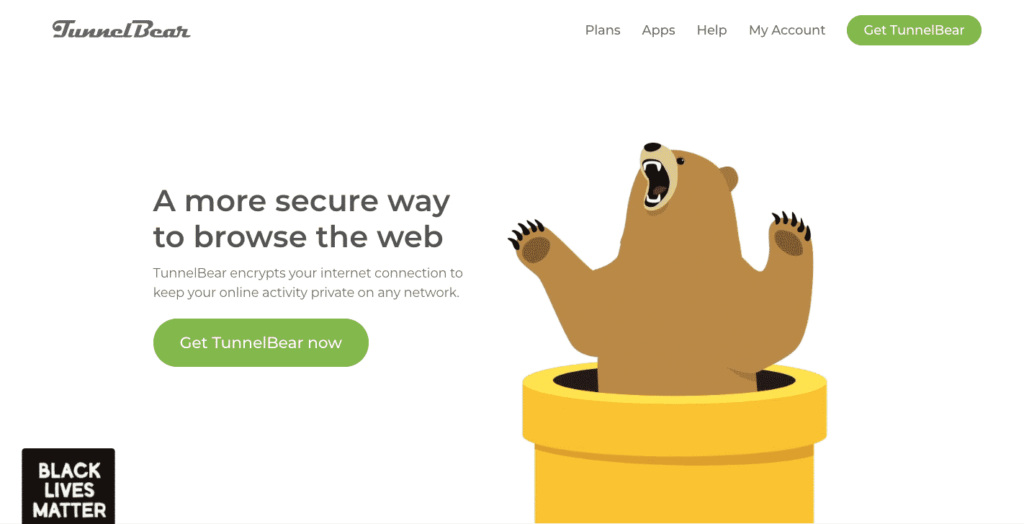 The Tunnel Bear VPN is a good option for starters who are not in heavy data usage. The free plan of this VPN offers 500MB of data per month along with an extra 500MB if you promote them on Twitter every month. The free version also offers unlimited speed and access to over 20 country's servers across the globe.
The Tunnel Bear VPN is also good at securing your data over the internet. It provides a ghost bear mode that prevents data leakage in case of sudden connectivity loss. It can help a lot in bypassing VPN blocks, Deep Packet Inspections (DPI), and censorship. The VPN also performs better in situations like unstable connections and uses a more reliable TCP protocol for connection.
The VPN also uses 256-bit encryption over the data packets that it transmits over the wireless connection. However, if you're looking for using this for Netflix, then this is not for you. The free plan offers very little data and is also not able to unblock Netflix US.
4. Hotspot Shield VPN
You can try Hotspot Shield as your new VPN service provider. It provides 500MB of data every day which is a decent amount considering the free price. You can use this VPN to keep yourself anonymous on the web along with full security for your transmitted data. You'll be able to download the windows app the Hotspot Shield VPN without any sign-up or registration.
The VPN provides full security and deletes all the logs as soon as your browsing session gets over. The free plan will not be able to fulfill your streaming needs as it provides only 500MB a day and is also not able to unblock Netflix, Hulu, Amazon Prime Videos, etc. You may require to have the premium plan for that.
However, the free version gives you access to the Catapult Hydra that plays a handy role in increasing the speed over long distances. The PN also uses 256-bit encryption over the data transmission along with an automatic server kill switch to protect the data in sudden connection loss situations.
5. Windscribe VPN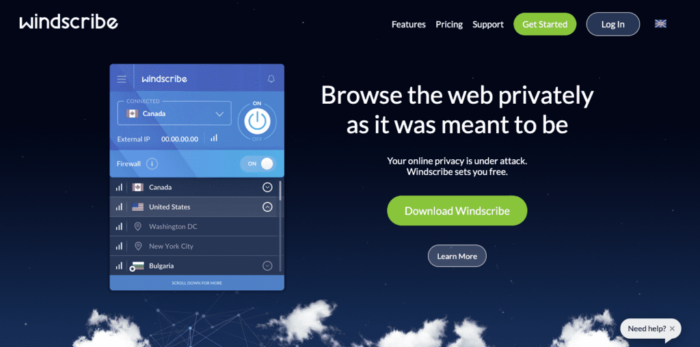 This VPN provides up to 15GB of data to use every month. The first 10GB is greeted to every user and the extra 5GB can be opted for free just by promoting the VPN over Twitter. This is a pretty decent amount of data limit for a free VPN on a Windows PC. The VPN has a built-in AdBlocker and firewall that keeps your privacy on top. It deletes all the logging files related to your browsing within 3 minutes of your logging out.
The free version gives the streaming facility in Kodi and YouTube. However, its Netflix-optimised servers are only available for premium members. Hence the free version can't be used to unblock Netflix and other major streaming services.
The VPN provides a split tunneling feature to segregate specific traffic that goes through the VPN connection. The Stealth and Wstunnel modes of the VPN are really powerful and can bypass the Great Firewall of China as well. Other features like 356-bit encryption over the transmitted data, automatic kill switch, and no-log policy are also there to keep your VPN experience as good as possible even on the free version.
6. Express VPN (Bonus)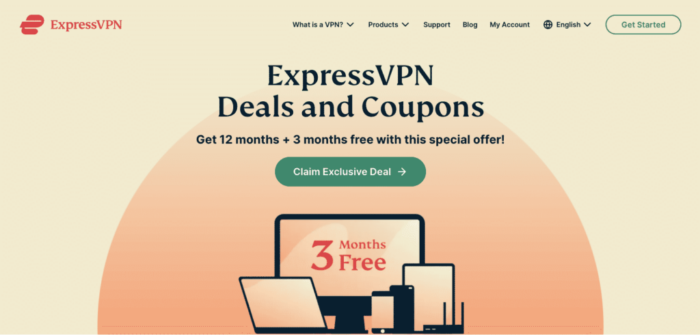 One more VPN service that I would like to suggest to you is the Express VPN. Though it's not a free VPN, it's worth every single penny that you pay for its service. Its easy-to-use and multilingual interface will provide you a hassle-free VPN experience. Not just PCs, but ExpressVPN is also available for smartphones.
It has a split tunneling feature that lets the user select apps and software that can access the VPN service resulting in the rest of the apps staying away from the VPN connection. The VPN is capable of bypassing any kind of geo-restrictions and works well with almost all the services like Netflix, BBC iPlayer, Amazon Prime Video, Kodi, YouTube, etc.
The security standards of ExpressVPN are among the best in the market as it provides a government-grade encryption facility. The VPN provides a 30-day money-back guarantee. Definitely not free but is one of the best VPNs for Windows.
Free Windows VPN – FAQs
What are the best free VPNs for Windows?
Nord VPN, Proton VPN, Tunnel Bear VPN, Hotspot Shield VPN, and Windscribe VPN services are some of the best free Windows VPNs.
How easy to set up a Free VPN on my Windows device?
Setting up a Free VPN on your Windows device like PC & Laptop is as easy as installing other software or application. However, all the free Windows VPNs mentioned in this article provides a step-by-step installation guide to its users.
How free Windows VPN services are safe for streaming?
All Windows VPN apps and services reviewed on this page can be considered the safest VPNs for streaming services like Netflix, Youtube, and Twitch. These VPNs provide military-grade privacy protection with 256-bit encryption.
How safe are free VPNs for my Windows device?
These free VPN services for Windows PC and Laptops are tested and reputed among all VPNs. Also, they provide 256-bit encryption on your data.
Do VPN services are Legal to use?
Yes, in most of the countries uses of a VPN service on your device is legal but in some countries, VPN services are restricted like Russia and China. So, while purchasing a VPN service, always check their availability in a certain country.
Conclusion
So, these were the best-unlimited VPN for windows that you can use for free. The aforementioned VPNs are the best in their service and are also reliable for keeping your data and privacy secure. I have also mentioned a bonus listing of Express VPN that you can consider if you're planning to buy a premium subscription to any of the listed free VPN.