Best Free VPN for Torrenting: Torrenting is a method of downloading and uploading files using Torrent clients such as MicroTorrent, BitTorrent, and many others. It is very infamous for sharing copyrighted content and always has been under the radar of government authorities. You might have heard the news of torrent users getting penalties for downloading pirated software, movies, or files. It happens because Internet Service providers can easily track a user at the request of the government.
So, If you regularly use Torrent you should definitely be using a VPN (Virtual Private Network) to protect yourself from getting caught. A VPN works as a layer between your computer and your ISP. There are dozens of VPN providers available to choose from but the real concern here is not every one of them supports torrenting. To make things easier for you we have gone ahead, subscribed to the top VPN players in the market, tested their services, and come out with the ones that support torrenting while not degrading Internet speed.
We have also curated best VPN Services for each operating systems. You can read here:
5 Best Free VPN for Torrenting
We have listed a total of the five best VPNs for torrenting. The list includes some big names of the VPN industry as well as a few newcomers that are worth getting our attention. We have mentioned all the features of each VPN along with its Pros and Cons. Go ahead, check out all the recommendations and sign up for the one that suits you the best.
1. Express VPN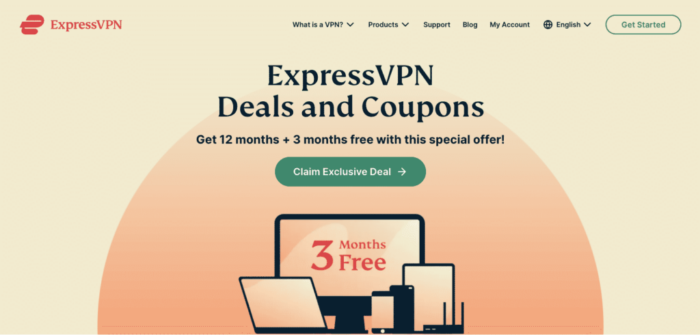 Whenever someone's say VPN, the name that comes first in our mind is ExpressVPN. It is one of the top two VPN providers along with NordVPN. We have a hard time deciding whether we should give 1st place to Express VPN or NordVPN. But in the end, we gave ExpressVPN first place on our list. As per the recent updates Express VPN operates over 3100 data centers in 160 different locations catering to 94 countries. Most of these servers are located in Tier 1 countries like the U.S. U.K, Canada, Brazil, France, Switzerland, Spain, etc.
Where other VPN providers run on traditional HDD Express VPN uses volatile memory on its servers to provide extra security. On top of it Express VPN uses 4096-bit CA, AES-256-CBC encryption, and TLSv1.2 to provide a high level of security. It does not log user activity or connection logs and offers a Kill Switch that keeps you protected when the VPN connection gets dropped. Last year ExpressVPN introduced its very own protocol Lightway that makes connections faster and more reliable.
When it comes to availability on different platforms ExpressVPN has an app for all three major desktop platforms Windows, Mac, and Linux. It also has Extensions for major Desktop browsers Chrome, Microsoft Edge, and Firefox. On Mobile, it has an app for both Android and iOS. It is also available for routers, various Smart TV platforms, Gaming Consoles, etc. One can use the VPN on five devices simultaneously. All these features come at a premium cost as the service costs $12.95/month and $99.95/year with 30 days refund policy. Check out ExpressVPN by tapping on the below button to get the best possible discounts.
| Pros | Cons |
| --- | --- |
| High Security | High Pricing |
| Lightway Protocol | Less Number Of Servers |
| Wider Availability | Max. 5 Devices |
| 3100+ Data Centres | |
2. Nord VPN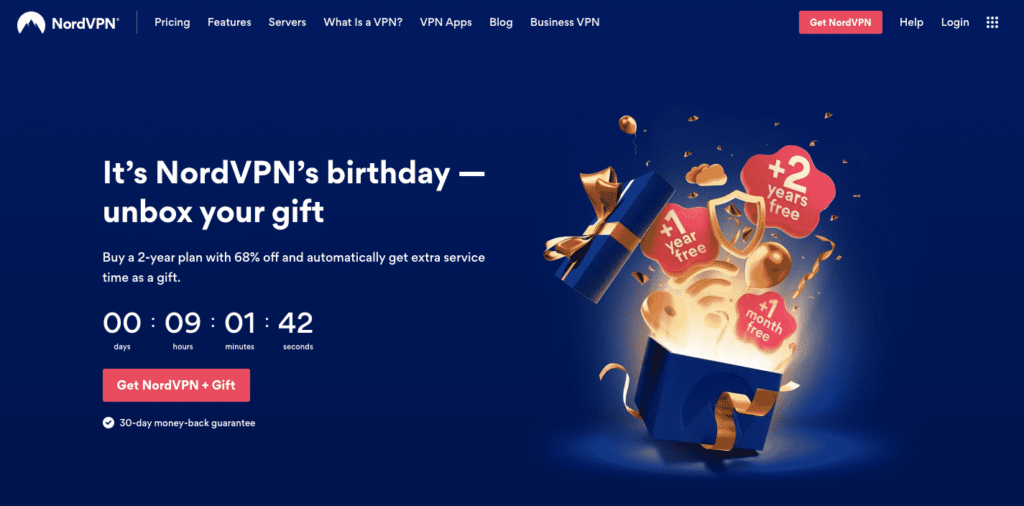 No other provider can snatch the place of NordVPN being the next on our list. It is equivalently good as ExpressVPN and even beats the number of data centers. NordVPN has 5290 servers in 60 different countries globally. These numbers are huge, almost double of Express VPN. It simply means wherever you leave you will easily get a NordVPN server close to your location so no worries of low download speed.
A good VPN provider should have a no-log user policy and NordVPN checks this box with green. It also offers Kill Switch to protect you in a situation where VPN connections get dropped. Each user gets a dedicated IP address for a faster connection. On top of the above features, it also blocks Malware and Ads to protect users from malicious websites showing intrusive ads.
NordVPN is present on almost all the major platforms. It has a dedicated app for Windows, Mac, Linux, Android, iOS, iPadOS. One can install NordVPN on the Router itself to protect all the devices connected to the router. It is also available as an extension for Chrome and Firefox. Coming to the pricing, NordVPN costs $11.95/month, $4.92/month for a one year plan, and $3.30/month for a 2-year plan with a 30 days refund policy. We have partnered with NordVPN to offer you an additional 3 month on 2 years subscription when purchased using the below button.
| Pros | Cons |
| --- | --- |
| 5200 Servers | Torrenting Supporred On Less No. Of Servers |
| Dedicated App for all major platforms | Costlier Monthly Plan |
| Cheaper 2 Year Plan | Open VPN Configuration Not Friendly |
| No Log user policy | Max. 6 Devices |
3. Surfshark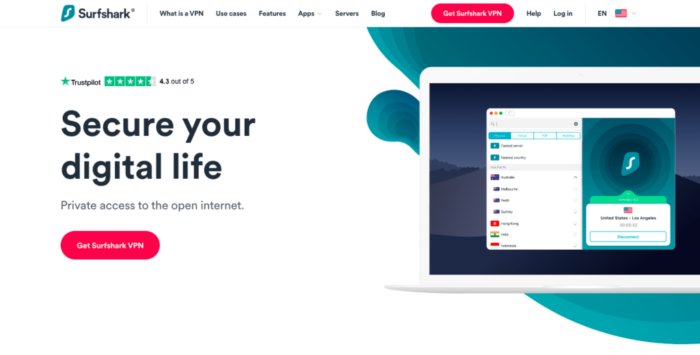 Next up on our list is Surfshark, A VPN provider with over 3200 servers in 65 countries worldwide. Although the no of servers is quite competitive not all servers are optimized for torrenting. In our testing, the best thing we found about Surfshark is it supports Unlimited devices. In a market where big names like ExpressVPN (5), NordVPN(6) have a limit on the number of devices you can connect at the same time Surfshark allows as many as devices you want to connect.
The support for devices is also broad as it has apps for Windows, macOS, Linux, Android, iOS, FireTV, etc. It is also available as an extension on popular browsers like Chrome, Firefox. Surfshark VPN has a Cleanweb feature that provides certainty of no ads, trackers, malware, or phishing attempts. It has a Whitelister feature to allow specific websites to bypass VPN. The VPN does not log any user activity and boasts a very strict no logs user policy. Surfshark does not compromise on Killswitch protecting you at a time when the VPN connection gets disconnected.
Other features include Private DNS, Camouflage made, Multi-Hop. It has industry-grade AES-256-GCM protection. Surfshark uses IKEV@/IPSec protocol along with the option to select OpenVPN protocol. Lastly, subscribing for the Surfshark will cost you $12.95/month, $6.49/month when subscribing for 6 months, and just $2.49/month when purchased for 24 months. We will leave the link to the best-running discount and you can take the benefits by clicking on the below button.
| Pros | Cons |
| --- | --- |
| 3200 Servers | Average Customer Service |
| Unlimited No of devices | Bad Torrent Speed |
| App for major platforms | |
| Cheaper Plans | |
4. CyberGhost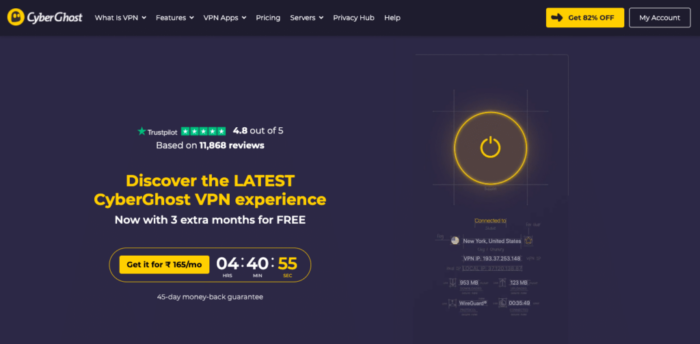 The VPN provider that has the highest number of servers among all others is CyberGhost. It has around 6900 servers in 114 locations and 91 countries globally. The number is huge as the top picks in our list lack the number of servers CyberGhost has. Most importantly these servers are torrenting optimized so expect a higher download and upload speed when torrenting using CyberGhost.
In terms of app availability, It has an app for all major operating systems Windows, Mac, Linux for desktop, Android, iOS, TV Platforms, Gaming Consoles. One can also install CyberGhost extensions on their Chrome or Firefox browsers. It can be configured on a Router to protect all devices connected to the network. A max. of 7 devices can be connected to CyberGhost at any given time.
It does have a no-logging policy and offers Kill Switch. The VPN uses strong 256-bit encryption and uses the IKEV2 protocol for connection. On the pricing front, CyberGhost plans are $12.99/month, $7.99/month when purchased for six months, and $2.79/month for 24 months purchase. There is an impressive 45-day money-back guarantee. The price is really competitive and you should definitely try out CyberGhost.
| Pros | Cons |
| --- | --- |
| App for all platforms | Wait time to connect |
| 6900 Servers | Max. 7 Devices |
| Torrent Optimized | |
5. Private Internet Access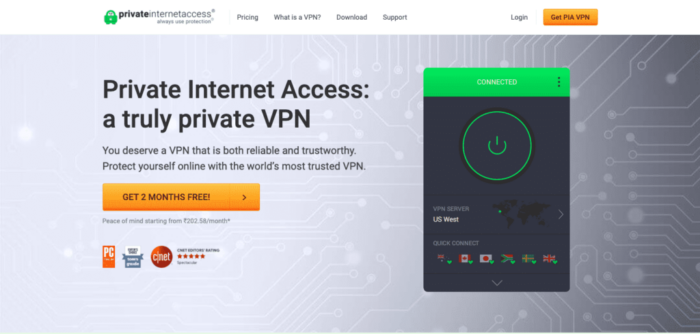 The last in our list of best VPN for torrenting is Private Internet Access. Its highlighting feature is it runs on open-source software. The codes are publicly available so anyone can test them. It simply means there is no backdoor to track users. Most of the other VPNs in our list are headquartered in the British Virgin Islands whereas Private Internet Access is from the U.S.A. In terms of no. of servers, it has a massive 29000 servers in 77 countries. As you will be using the VPN for torrenting purposes most of the servers are well optimized for it.
The other useful features include Kill Switch, Powerful Encryption, Dedicated IP, Split Tunneling, etc. Private Internet Access is available on all major platforms. So whether you want to use it on Windows, Mac, or Linux running desktop or Android, iOS smartphone you are covered. It also provides Ad and Malware blocking with its Wireguard Protocol.
In terms of pricing, the Private Internet Access one-month plan is $9.95 a month. The price will come down to $3.33/month when purchased for 12 months and just $2.69 for a 24 month subscription. The payment method also includes anonymous payment methods like Bitcoin.
| Pros | Cons |
| --- | --- |
| 29000 Servers | Slow speed on certain servers |
| USA based | Netflix buffers sometimes |
| Open Source Software | No Whitelisting |
Conclusion
Above are the best VPN services for torrenting. These VPNs are tried and tested, all of them allow torrenting and their servers are optimized for faster peer-to-peer sharing. You will also get Kill Switch in all of them so your identity never gets leaked. We would recommend subscribing to ExpressVPN or Nord VPN yearly or for a two years plan to get lucrative discounts. What do you think about our list of best VPN for torrenting? Is there any provider that you think should be on the list? Do let us know by dropping a comment below.
Why do you need a VPN while torrenting
A question might come to mind: why do I need a VPN while torrenting. Let me answer it for you. Whenever you are involved in a torrent activity to download a copyrighted file there is a chance of getting a penalty from the owners of that content. You might end up getting fined a huge sum of money. On the other hand, if you are connected with a VPN while torrenting your ISP will not be able to track you keeping you safe from any possible risks.
Does a VPN hide torrenting activities from ISP?
A big Yes because that is the main use case of a VPN. Once you get connected to a VPN all your torrenting activity gets hidden from your ISP. You will get a new IP address from a different location through the VPN provider and it would be impossible for the Internet service provider to track you.
What features to look for in a good torrenting VPN?
As per me, below are the three features every good torrenting VPN should have.
The VPN provider doesn't keep a log of your online activity
The provider is not based in a country where the government can demand customer records.
Obviously, It is fast enough that it will not slow down your download speed while torrenting.
Torrenting VPN FAQs
Is torrenting safe with a VPN?
Yes, Torrenting is completely safe when used with a VPN. As you will be connected to a VPN your Internet service provider will not be able to track your activities keeping you safe from the penalties.
Can you go to jail for torrenting?
Probably not, torrenting is not always a bad practice. If you are using it to download creative common files then you will not have any problem. It is bad when used for pirating copyrighted content.
Is free VPN enough for torrenting?
We don't think so, in our research there are no free true VPNs available. The ones that claim to be free offer just 2GB, 5GB, or 10GB monthly usage cap which is not sufficient enough for torrenting.
Is there a 100% free VPN?
There are a few 100% free VPNs like the one that comes in-built with browsers, Cloudflare 1.1.1.1. If you are really tight on a budget check out these options but be ready to get the worst download speed with these 100% free VPNs.