Finding a perfect thing is a hard task and the same thing also applies to VPN services as well. There are thousands of VPN services in the market among which most of them are free. However, if your concern is online security and anonymity then a free VPN is not a thing for you. I strongly recommend you to have a premium VPN service for that.
In this article, I have listed the top 10 VPN services that are doing great in the market. Most of the listed VPNs provides both free and paid version of their service along with the free trial of up to 30-days. However, if you are looking for the best VPN service according to use then you can through the following guides:
10 Best VPN Services
The 10 best free VPN services in 2023 are:
Express VPN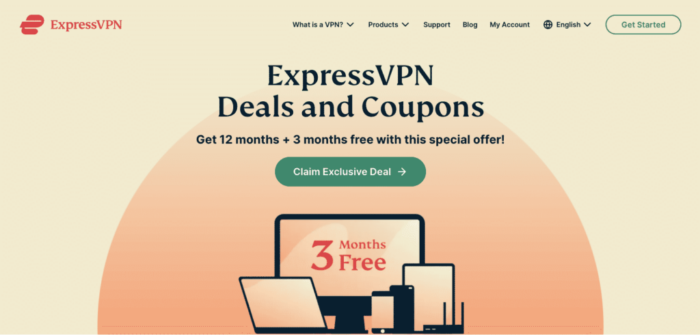 You might have already heard about Express VPN. It is one of the most successful and well-reputed VPN service providers in the market right now. There is no doubt that many Express VPN users call it "the best" in the market. It covers almost all the major platforms like Android, iOS, Windows, Mac, etc., and hence is capable of providing a seamless VPN experience.
ExpressVPN has more than 3,000 servers across 90 locations on the globe that are 24×7 available to serve a premium VPN service. ExpressVPN provides superb connectivity to all the available servers. It's obvious that connecting to a nearby location will lead to a better speed but even on shifting to marginally far servers of different countries, it performs just fantastic with an average drop of 25-27%. In simple words, ExpressVPN is also a great option for streamers as well.
ExpressVPN is also loaded with a handful of useful features like split tunneling, P2P connection, 256-bit encryption, etc. The Split Tunneling feature allows the user to selectively choose which apps and services are to be coated with the VPN encryption. It is a pretty handy feature and proves helpful in situations like accessing the local Netflix library and using torrent with VPN simultaneously.
A unique feature that you'll find in this VPN is the MediaStreamer feature that will allow you to apply VPN encryption to the video streaming platforms that don't support VPN. It is a really handy feature for users who struggle through geoblocks. It is capable of unblocking content on platforms like Netflix, BBC iPlayer, Hulu, etc.
All of the ExpressVPN servers support P2P Connections and hence you wouldn't need any torrenting profile to access such content. ExpressVPN also makes sure to put high-level 256-bit encryption on all the data packets that are being transmitted or received. And its OpenVPN support further strengthens the connection.
On top of that, you'll also be greeted with DNS leak protection and a Kill Switch for your connection. ExpressVPN is definitely one of the best options to have. When it comes to performance and privacy, it is a complete no-brainer option to go with. But it is quite expensive. In fact, it can be twice as expensive as many other VPNs on this list.
Pros:
Works in China and the UAE
Fast & consistent speeds across the servers
MediaStreamer unblocks the unsupported streaming platform
Cons:
Slightly expensive
Connectin Drops (rare)
Nord VPN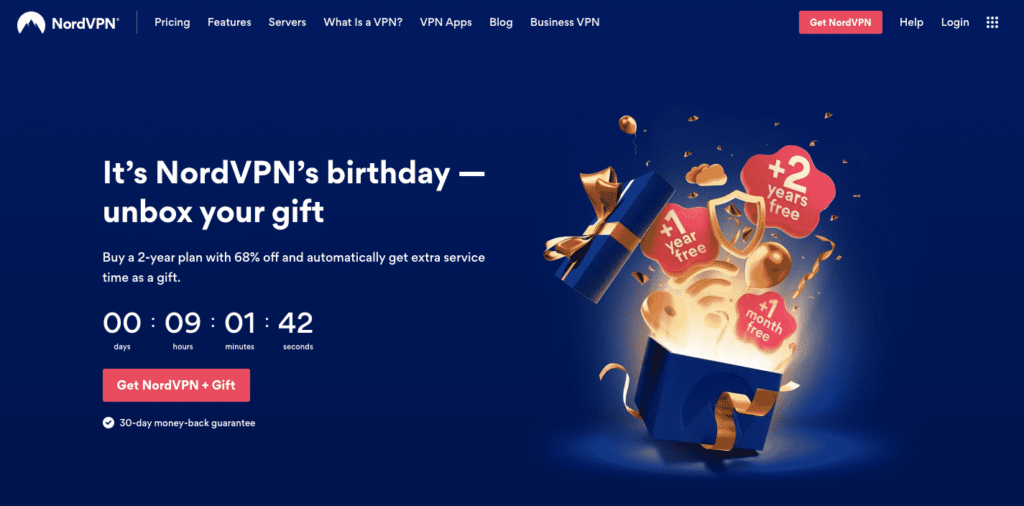 Though NordVPN is in second place but doesn't get fooled by that. The NodVPN is yet another very popular name in the VPN market. None can contradict the opinion of Nord VPN users that it's one the best VPN service on the planet which is available on all the major platforms including Windows, Android, and Mac.
NordVPN provides a really nice balance between price and performance and hence is a strongly recommended one on this list. It is a very secure and reliable VPN option. It provides AES-256 encryption which is a 256-bit high-end data encryption. NordVPN also comes with support for OpenVPN and IKEv2/IPSec protocols to keep your online activity secure and hidden.
NordVPN is a Panama-registered company and hence is able to provide its service with zero sensitive user logs collection and is also out of radar from 14 Eyes surveillance and troubling data retention laws.
With NordVPN you get a massive set of over 5,500 servers spread over across the globe in 60 different countries. Not just that, NordVPN is also continuously increasing this number by adding new servers regularly. Its server profile also includes servers that are for double encryption, P2P, and dedicated IPs.
The video streams can also opt for NordVPN without any second thought. This VPN is capable of unblocking geographically restricted content from all the major streaming platforms. This list includes Netflix, Disney+, Hulu, BBC iPlayer, etc. The VPN is also able to perform equally well in countries like China as well.
NordVPN further provides some extra features like the CyberSec suite that provides adblocking and deep malware protection to its users. Its speeds across the servers are also pretty consistent with a very small bandwidth loss over the connection.
Pros:
Select 2 VPN servers at a time
Top-notch security
A huge set of servers around the world
CyberSec Suite provides the best privacy features
Cons:
Selected servers are useful for torrenting
technical OpenVPN setup
Surfshark VPN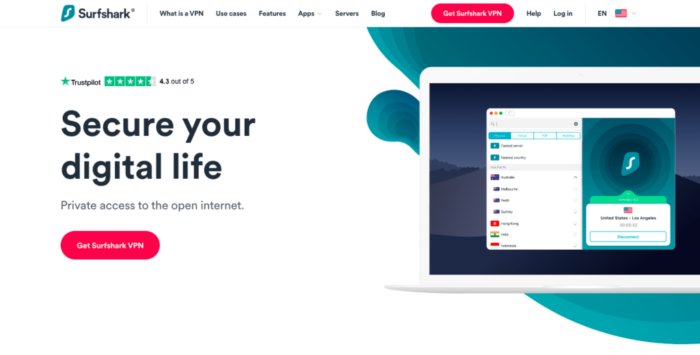 Next on our list is the Surfshark VPN and long story short, it is a very nice VPN service for getting unlimited internet access along with a handful of features at low pricing. It is a multidevice-holder-friendly VPN as it provides unlimited simultaneous connections.
You can also expect all the essential features that are required to get a premium VPN experience. The VPN features include split tunneling, kill switch protection, double encryption, a CleanWeb security suite to prevent malware and block ads. Its NoBorder Mode also works fine and unblocks geographically censored content.
However, in some cases like China and Iran, we found that it requires some manual setting configurations.
Surfshark has a consistently growing portfolio of over 3,200 different data centers across 65 different countries. All the servers work flawlessly and there is no recognizable data speed loss. All the major streaming platforms like Netflix, Hulu, BBC iPlayer, etc. also worked fine.
However, if you're an Amazon Prime Video user on a smartphone then you should better skip this VPN as it only works with the PC version of Amazon Prime Videos.
Pros:
Unlimited internet even in the free version
A decent set of servers
Dedicated NoBorder Mode to unblock content
Cons:
Unable to work in China and Iran
Amazon Prime Video works in PC version only
IPVanish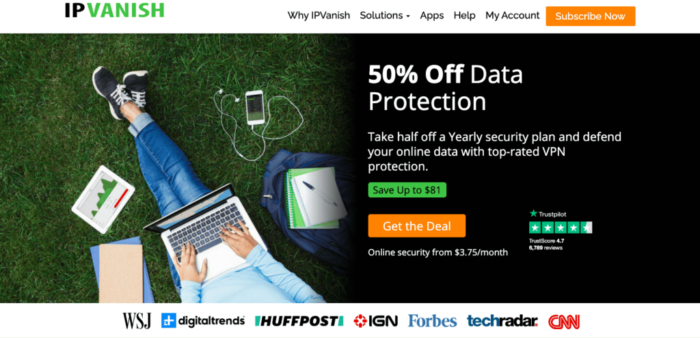 Next on our list is IPVanish. It is one of the best VPN in terms of maintaining the security and privacy of its users. IPVanish completely justifies its name and provides a very nice set of VPN features at a pocket-friendly price.
It has all the needed features like a P2P connection which is good for torrenting needs, a good built-in adblocker, and also provides a safeguard from malware. IPVanish says it works on a strict no-logs policy that means they don't save your online activities done via VPN.
The IPVanish also has a nice set of servers spread across the globe. It has a portfolio of over 1600 servers across 75 different countries across the globe. IPVanish provides a military-grade 256-bit AES encryption and DNS leak prevention technology to keep you completely anonymous in every possible situation.
If don't have a reliable network connection and are looking for an automatic kill switch feature in your VPN service, then IPVanish covers that thing as well. An automatic kill switch prevents your data leak over the network when a sudden connection loss takes place.
There are very negligible speed losses while using the VPN services and can be used for high-quality streaming services. The VPN does its job perfectly in unblocking content restricted by geographical locations. It can unblock all the major streaming platforms like Netflix, Hulu, BBC iPlayer, Hotstar, etc.
One thing to note about the IPVanish is that it has been blocked by the Great Firewall of China and hence can't be used in China.
Pros:
Best in class security
P2P connection supported for torrenting
Unblocks all the streaming platforms
Cons:
No. of servers are less
Can't be used in china
Hotspot Shield
Hotspot Shield has over 650 million users along with servers in more than 80 different countries. It comes at the #8 position in the productivity section of the App Store which is a good sign and one can rely on this VPN without having any second thought.
It has some interestingly cool features like the Catapult Hydra protocol that boosts the connection speeds and provides the best possible data bandwidth.
This feature indeed works practically and helps a lot in buffer-free streaming. Along with that, Hotspot Shield is also capable of unblocking content on all the major platforms. You can use this VPN globally to unblock content on platforms like Netflix, BBC iPlayer, Hulu, and Amazon Prime Video, etc.
The security parameters of Hotspot Shield are also one of the best in business. It serves best in class encryption, leak protection, and malware protection. However, if you're looking for a built-in adblocker then you will have to skip this VPN. Hotspot Shield doesn't provide any ad blocker within the app.
Hotspot Shield also doesn't keep a record of your online activity but we found that its Privacy Policies are not so promising towards log saving. This VPN is also headquartered in the US just like IPVanish and hence the 5/9/14-Eyes Alliance's rules do apply to this VPN. Additionally, we wouldn't recommend you to use its free version if privacy is your concern.
Pros:
Boosted servers speed via Catapult Hydra protocol
Connect 5 devices simultaneously
Unblocks all the streaming platforms
Cons:
No built-in Adblocker
Support needs improvement
CyberGhost VPN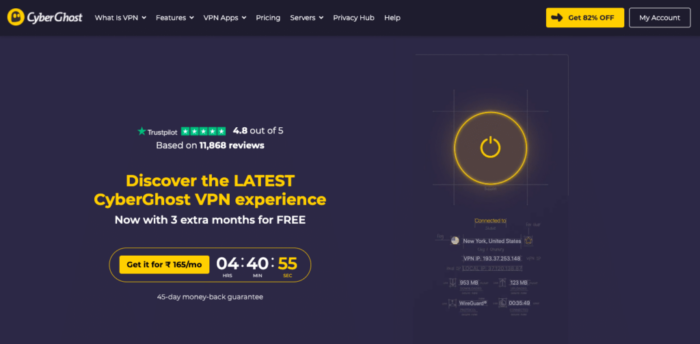 CyberGhost is a Romania-based VPN service provider which has been a pretty successful player in the market because of its well-balanced combination of security, reliability, user-friendly, and budget-friendly service.
The CyberGhost has a big network of over 6,600 servers that are located in 90 different countries across the planet. It is one of the most simple and easy-to-use VPNs on this list that most of the workings at automatic mode. However, for technical users, there is also a set of all the advanced settings.
The VPN also comes out to be a good option in terms of data privacy and anonymity. It provides solid encryption with leak-proof apps and an extra kill switch makes your online activities completely anonymous to the world. The VPN also works at a zero-logging policy as well.
Talking about the streaming experience, the VPN is capable of unblocking content on all the major streaming services like Netflix, Amazon Prime Videos, Hulu, BBC iPlayer, etc. However, in comparison to the rest of the listing in this article, the CyberGhost was not that good at retaining the connection speeds.
Also, the VPN is not for those who are looking to use it in China as it doesn't bypass the Great Firewall of China.
Pros:
A huge network of servers in 90 countries
User-friendly UI
Privacy-conscious
Cons:
Speeds are a bit inconsistent
Doesn't work in China
TunnelBear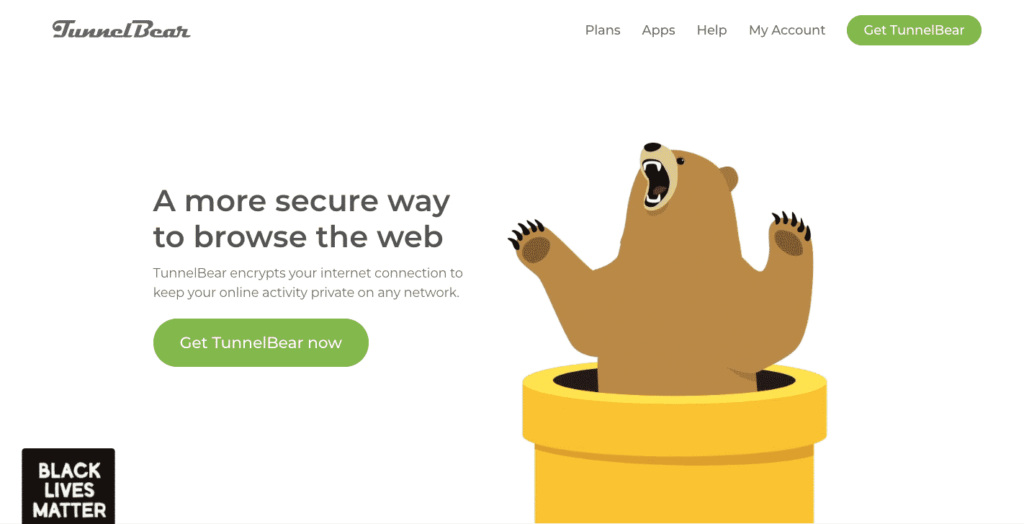 If you're looking for a decent VPN service along with pocket-friendly pricing then you should consider TunnelBear VPN. It is one of the best VPN that has a simple and easy-to-use user experience and provides all the necessary features that one expects from a decent VPN.
The TunnelBear VPN has high-speed servers that are spread across the globe in 25 different countries. The VPN is also capable of providing a best in class security and anonymity on the internet. It provides unbreakable AES 256-bit encryption on its network and works with a no-logging policy.
The VPN is also pretty decent in internet speed and wouldn't feel any noticeable difference while using the VPN for normal internet tasks. However, the speed losses are still enough to serve little buffering at high-quality streaming like 4k. Another reason due to which online streamers should stay away from is that it is currently unable to unblock streaming content from any none of the major platforms. The only accessible streaming service via TunnelBear VPN was HBO.
In terms of security, TunnelBear VPN serves an AES 256-bit encryption like any other top-class VPN and guarantees a no-log saving to its users. The VPN also provides an in-built ad-blocker in the form of a free browser extension and was effective in eliminating mid-roll ads from YouTube videos.
Long story short, the TunnelBear VPN is not an option for online streamers. The VPN is good at providing nice security and is a perfect fit for normal office users.
Pros:
Top class security and privacy
Simple and Easy to use
AdBlocker also removes mid-roll ads from YouTube videos
Cons:
Speeds are inconsistent
Not for streamers
Windscribe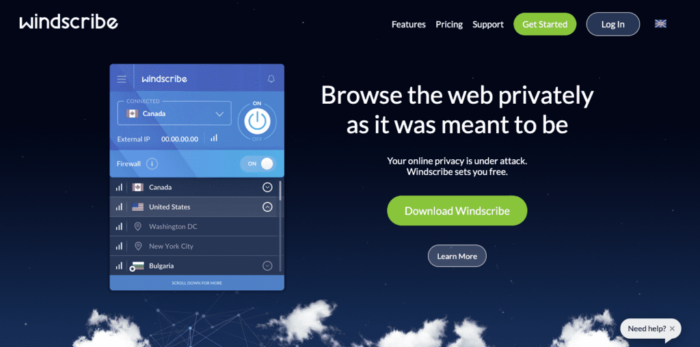 Talking about Windscribe, this VPN is popular for its free version as its free version provides a monthly data limit of 10GB which is sufficient for normal VPN users. The VPN also offers a Pro subscription at an affordable cost.
The Pro users get access to unlimited data usage and a list of servers in 110 cities of 60 different countries along with the option for port forwarding. It has a lot to offer to its users. It proves to be a really useful overall VPN service that can help in the torrent, stream Netflix US, and is packed with privacy features.
In terms of streaming facility, the VPN has a dedicated Windflix US server that helps the user to access the Netflix of US. However, we were not able to access Netflix of other countries. The same case was with Hulu, HBO, Amazon Prime Videos, etc. as well. Hence we can't recommend you Windscribe to the streamers.
The server speeds are also decent and since the VPN is not suitable for streaming purposes, a little drop in internet speed would affect your work hopefully, but still, there were some noticeable speed drops in our testings. The VPN clearly mentions which of the servers are not suitable for torrenting as non-suitable ones are labeled with a crossed-out P2P icon.
The security sector of the VPN is, however, pretty strong and works great in every IP/DNS leaking situation. Its privacy policies say that they never collect usage data such as website visits. The VPN provider is Canada-based which is a participant of 5/9/14-Eyes Alliance which might become a concern for some privacy-conscious users.
Pros:
Free version gives 10GB /mo
Pocket-friendly price
Safe and Secure to use
Cons:
VyprVPN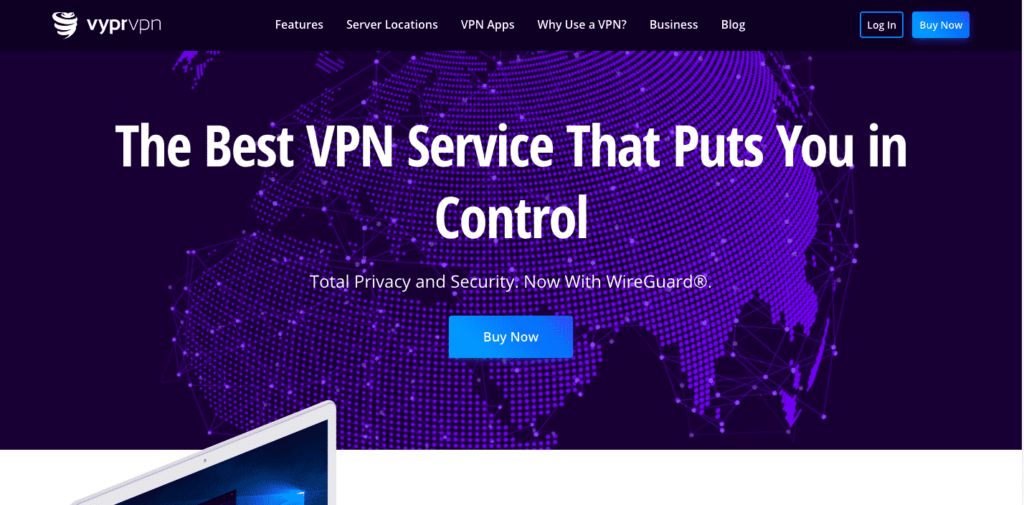 Looking for a VPN whose portfolio has hundreds of thousands of IP addresses? Try VyprVPN. The VPN has a huge collection of over 300,000 IP addresses along with 700 servers across the globe.
The VyprVPN is also a very nice effect in providing a flawless streaming service unblocking with all the major video platforms like Hulu, Netflix, Sling TV, Amazon Prime Videos, etc. The VPN comes out to be a flagship in performance if you're looking to have a US VPN connection from other countries. Connecting to European countries from the US also performed decently in our testing.
VyprVPN provides Chameleon protocol that further strengthens the provided industry-leading security and privacy. It also helps in unblocking geo-restricted content with ease. There is the AES 256-bit connection encryption inside the VPN that works hand in hand with the company's no-log saving policy. Further, the VPN also has built-in automatic public Wi-Fi protection.
VyprVPN is a complete VPN package that can meet the requirements of the majority of VPN users. One thing to be noted is that we would advise you to avoid this VPN if you're into crypto payments.
Pros:
Set of 300k IP addresses
Reliable connection speeds
Public Wi-Fi protection protects over open Wi-Fi networks
Chameleon protocol provides extra security
Cons:
Not suitable for crypto payments
Private Internet Access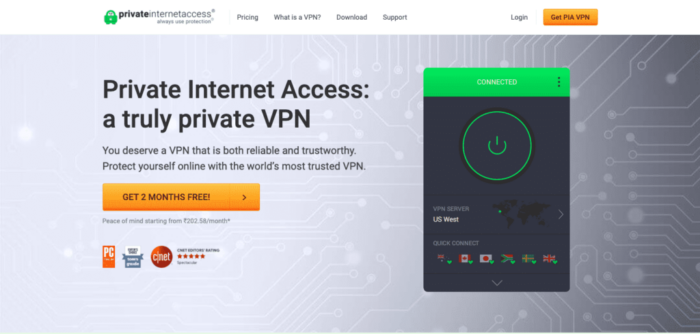 A pretty simple name. Right? But don't get fooled by the simplicity of its name. Private Internet Access has seen a definite surge in its user base in recent years. All because of its exceptional security at a very budget-friendly price.
Private Internet Access exactly does what its name says. It provides military-grade connection encryption and comes with a handful of VPN protocols. This VPN is more than enough for keeping you anonymous on the web and also doesn't save any kind of info about its user.
Besides its heavy privacy and security features, the VPN is pretty simple and minimal looking. Any normal user can use this VPN without any hassle. Private Internet Access comes loaded with MACE, a built-in malware, and ads-blocker that indeed works on ad-heavy torrenting websites as well.
The Private Internet Access VPN has over 30,000 servers that are spread over 75 different countries. The servers are very responsive and work perfectly fine with normal to negligible speed losses.
You also don't have to worry about geo-unblocking as this VPN gets you covered with all the major streaming platforms. We were able to watch Netflix US and UK, Hulu, Disney+, BBC iPlayer, Amazon Prime Video, etc. with ease.
Pros:
Budget-friendly plans
A very huge set of data servers
Unblocks all the streaming platforms
Minimal UI & Easy to use
MACE works well in adblocking and malware protection
Cons:
Not suitable for crypto payments
Unreliable connection in China region
Conclusion
So, these were the top VPN services that I would recommend to you if you're serious about having safe, secure, and anonymous web usage. None of the listed VPN will disappoint you in terms of security which is the foremost concern for a VPN user. Most of the listed VPNs provide a free trial of 7-30 days in which you can experience their premium services to find out if that VPN fits your needs.
VPN FAQs
What is a VPN?
VPN stands for Virtual Private Network. As its name suggests it is a virtual private network that connects you to the Internet with a secure & encrypted connection. A VPN hides your Public IP, from being tracked and shows its own server instead.
How VPN Works?
VPN is a network of Virtual Servers with unique IP Addresses located in various geographical regions all around the world. These servers act as a Virtual Internet Network on your device and connect you to the internet through a secure connection. While using a VPN service on your device you are not exposing your IP address to the public, instead, VPN will show its virtual server's IP address.
Why do You need a VPN?
When you are on the Internet through any kind of device, you are visible to the public through your IP address. Your device can be tracked back for a number of reasons and sometimes for unethical reasons. And to protect from these trackers you need a VPN service to be anonymous on the internet.