Hey, do you want more traffic? – Ubersuggest
The Ubersuggest a freemium Keyword Suggestion Tool is here!
Ubersuggest – A freemium keyword tool that generates more suggestions faster. It claims!
Neil Patel – A Internet Marketing expert acquired Ubersuggest, a few years back and made it available to everyone for free. Later in early 2023 Ubersuggest converted to a Paid tool with a 7-day free trial.
Ubersuggest Keyword Tool claims that just enter a Keyword or Domain and it will show you the tons of Keyword Ideas within seconds.
If you are doing blogging since a while or you want to create a blog, than you should be aware of how Keywords are important in Search Engine Optimisation & ranking in Search Engines.
Here, Ubersuggest comes to help you in Keyword Research to write Keyword Reach and SEO-optimized content.
There some other free keyword research tolls are also available like Google Keyword Planner and Semrush.
Before going to know the features and how Ubersuggest works, just have a look at it's homepage, how it looks: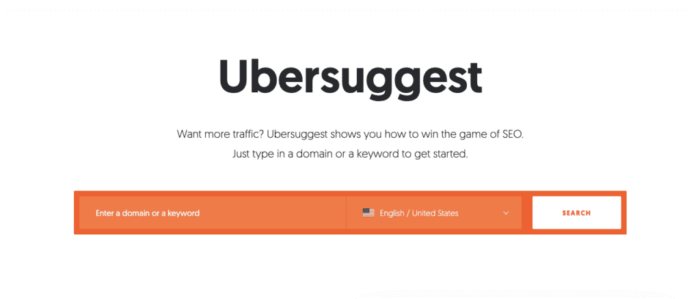 Features of Ubersuggest
Ubersuggest has a lot of features, which I've listed below in brief. I'll explain how to use Ubersuggest's features in the upcoming paragraphs.
Keyword Overview
Keyword Ideas
Content Ideas
Domain Overview
Top SEO Pages
Top SEO Keywords
Site Audit

Backlinks Data

Competitor's Keyword
1. Keyword Overview
Initially, Ubersuggest was launched as a keyword research tool and thereafter further expanded to more SEO Tools.
You can simply do keyword research by simply typing your Keyword in Ubersuggest tool to get the data like Keyword Volume, Keyword SEO Difficulty, Keyword Paid Difficulty, CPC, and Keyword Search Trend.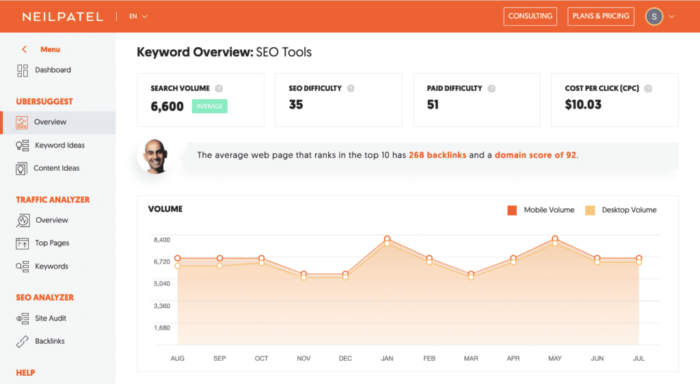 All these data can help you to prepare your content strategy accordingly and will help you to write better content.
2. Keyword Ideas
Need more keyword ideas for your content, which may help you to write an SEO optimized piece of content?
Above I've explained how Ubersuggest can help you to find Keyword data via searching for a Keyword. Here I'll explain to you how to get more Keyword Ideas from one keyword.
Ubersuggest Keyword Suggestion Tool will help you to find better keyword ideas from Head Terms to Long Tail Keywords.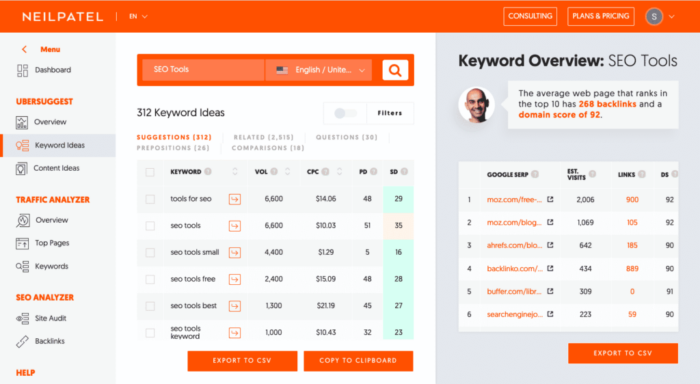 Just enter your keyword and get hundreds of ideas within seconds with some useful data like Search Volume, Competition, and even seasonal keyword trends of each keyword.
Along with the Keyword tool also provides suggestion that includes Keyword suggestions, Related Keywords, Questions related to the Keyword, Prepositions, Comparisons and the sites those are ranking for the Keyword.
3. Content Ideas
If you don't have any idea about, what to write? Than, Ubersugget also can help you here by suggesting you Content Ideas.
It will help you to do Niche Research and show you those content pieces that are getting the most social shares and backlinks in your niche.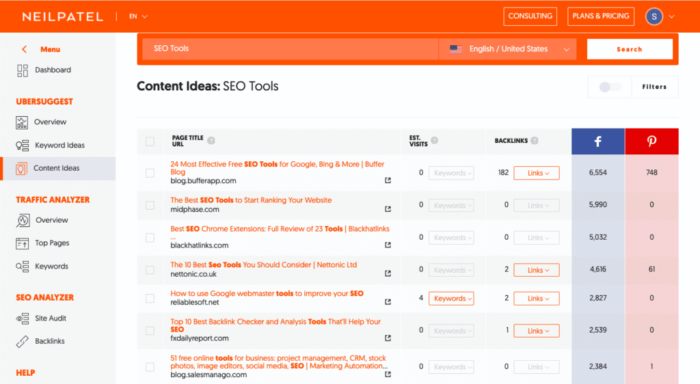 Getting Content Ideas in your Niche can help you to make or change your Content Strategies.
With the help of these content ideas, you can perform content research by diving-deep in these top-performing content pieces for any given keyword. So, you can write about those topics that peoples are actually interested in reading and sharing.
4. Domain Overview
Ubersuggest's Domain Overview provides you a lot of information about a Particular Domain or URL. You just need to type the Page URL or Domain URL then Ubersuggest will give you the details like Organic Keywords, Organic Monthly Traffic, Domain Score and total Backlinks.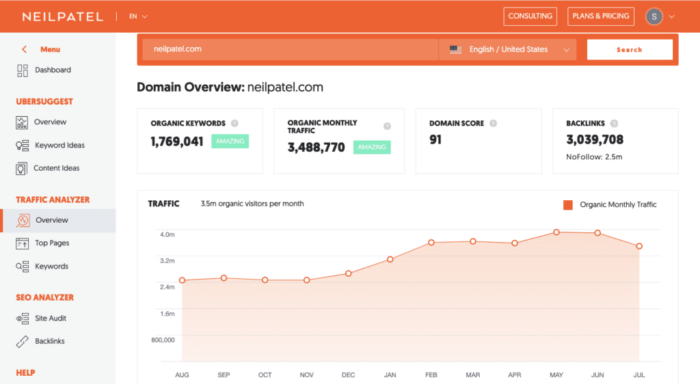 Further, Ubersuggest provides you, two options to get Keyword Ideas of your or competitor's website. One is via searching directly Domain Name and second is via a Keyword.
Here I'll discuss about keyword ideas from Domain Url.
If you want to get an idea about keywords, for which your website is ranking in Google than simply type in your domain URL, select the country, and hit on the "Search" button. Ubersuggest will show you the list of all keywords for which your website is ranking in Search Engine along with search volume.
Or, if you want to spy on your competitor's keywords, then type in your competitor's Website Url, select country, and hit on the "Search" button, that's it. The Ubersuggest tool will show you all the keywords list for which your competitor's website is ranking in Search Engines.
Note: Ubersuggest keyword tool also provides you that website's which page is ranking for which keyword. Which will help you to optimize your page to get better results in terms of Organic Searches.
5. Top SEO Pages
As a Blogger we all know the importance of SEO & Content.
You are putting great efforts for writing good content, but still you are not getting traffic, no one is reading & sharing it.
It means, there is some problem with your content.
Huh!! Right?
No. Absolutely No!
There might not be a problem with content, the problem is with SEO (Search Engine Optimisation). You have to look back to "On Page SEO" & "Keywords".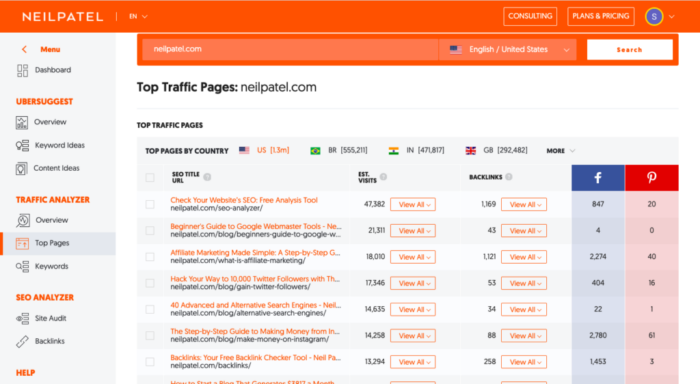 Ubersuggest will show you the Top SEO Page Reports with keywords for that pages are ranking. Here you can find your Top SEO Pages. Also, you can spy on your competitor's pages with the keywords for which they are ranking.
Simply, you can target those keywords and improve your Search Engine Ranking.
6. Top SEO Keywords
Ubersuggest has grown since its launch and further maturing day by day.
Now, the tool is capable to analyse the keywords of a website and can show some important SEO matrix like Volume, SERP, received traffic for a particular Keyword and demographics.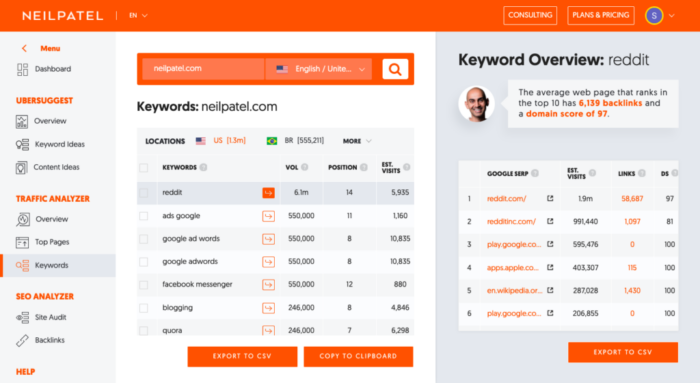 This SEO Tool will also show the top ranking websites along with their SERP for the keyword. This can further help you to improve your content by spying on your top SERP websites.
7. Site Audit
Ubersuggest also offers a tool named "Site Audit" that analyzes a website by its URL and gives the all possible SEO matrix.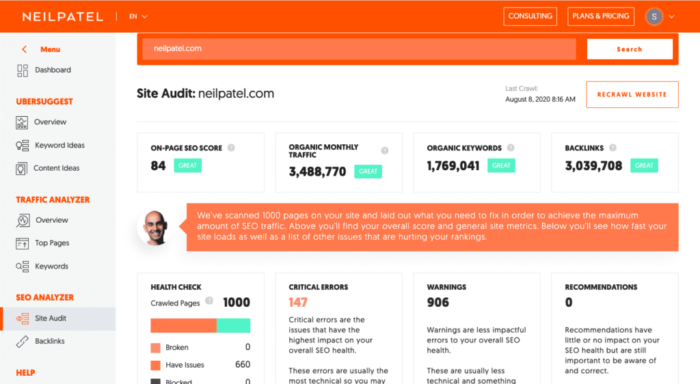 Site SEO Audit by Ubersuggest shows the various data like On Page SEO score, Monthly Organic Traffic, Total Organic Keywords for that a website ranking, Total Backlinks, SEO Problems, Site Speed and other Technical SEO Problems.
This can help you to analyze your website for further improvement on your On-Page SEO and Technical SEO.
8. Backlink Data
While writing content, you should keep in mind that there are more than 200 factors that affect Search Engine Rankings and Backlinks are one of them.
Google's search engine ranking algorithm takes Backlink as a critical ranking factor.
But, there is problem, Backlinks are hard to build.
Now, with the help of Ubbersuggest you can find the content in your Niche or Topic and find whose are linking to these contents. Simply you can approach those Website's and ask them to link back your website also.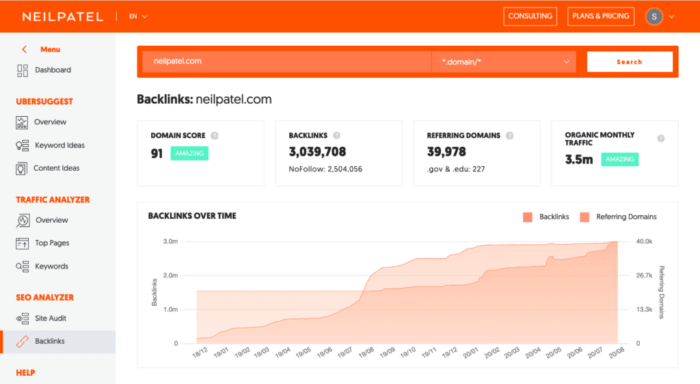 As I already mentioned above that Backlinks are very hard to build. So, here you have to come up with an Action Plan for improving your Backlink Profile over time.
9. Competitor's Keyword
A bonus! Not a tool on Ubersuggest.
Ubersuggest tools can be your Spy SEO Tool for your Keyword research and can spy your competitor's website to get their top-performing keywords and Pages.
I've already explained that you just need to type in your competitor's domain URL to get all the keywords for which the website is ranking. And by targeting those keyword you can build your content writing strategy.
Look back on your competitor website, analyze them, and make a better copy of content than your competitor to outrank them.
---
Here was a detailed Ubersuggest Review along with all SEO Features. Moreover, Ubersuggest is not a free SEO tool because It has launched paid plans from early 2023. So, let's have a look at Ubersuggest Pricing.
Ubersuggest Pricing Plans
Ubersuggest was a Free SEO Tool till early 2023 but now it is a Paid SEO Tool with a 7 day trial period. Here is the Ubersuggest Pricing Plans:
| Pricing Plan / Term (↓/→) | Monthly Price | Lifetime Price |
| --- | --- | --- |
| Individual Plan | $12 USD | $120 USD |
| Business Plan | $20 USD | $200 USD |
| Enterprise/Agency Plan | $40 USD | $400 USD |
Conclusion
If you are finding a freemium keyword research tool with great features than Ubersuggest really can help.
The tool can not compete with pros but still has great use if you don't want to spend a lot of money on it. Because Pro Marketing Tools charges somewhere between $99 to $1000 per month.
I think starting with a free or affordable tool is good idea and later can be shifted to the pros.
I hope you enjoyed the article, If yes, that show some love by share with others.