Content Fuel offers content writing services to individual bloggers, marketing agencies, businesses, etc. They claim unlimited content writing at a flat monthly fee. Let's see in this Content Fuel Review what they exactly offer and how it can benefit you with their content writing service.
What is Content Fuel?
Content Fuel is an online content writing service provider to bloggers, marketers, marketing agencies, businesses, etc at a fixed monthly fee. The platform and its services are backed by the team behind the well-known graphic designing service provider – Penji.
If you are a blogger, marketer, or small business then you must give it a try to Content Fuel Content Writing Service.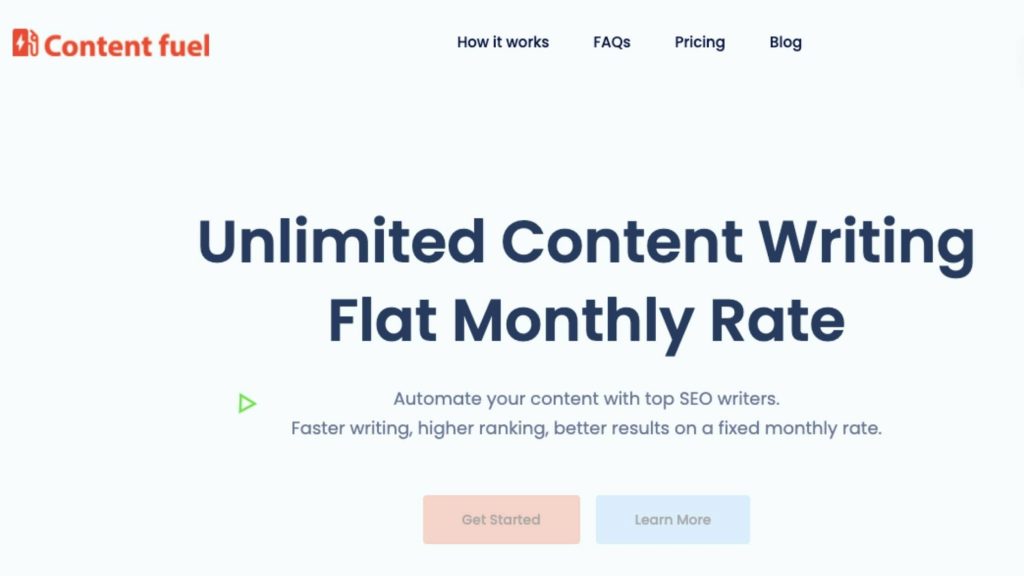 How Content Fuel Works?
The working process of Content Fuel is quite simple. The platform works in these simple steps:
Submit Your Content: You need to fill a content reuest form to starting your order with the detials like Topic, Main Keywords, Length of contnet, etc.
Assigned to Writer: After submitting the contetnt request form, writer will be assigned automatticly depending upon the Topic / Niche. You'll get a professional writer who has expertise on your submitted topic. The team hires professional writers only, so you don't need to worry about their skills.
Communicate with the Writer: One the writer is assigned to your article, you can communicate with the writer and discuss the topic. You can brief him about topic, keywords and reserch.
Review & Request Revisions: Once the article is written by the writer, it will submitted to you for reviewing. The turn-around time is really qucik and it stands between 48 hours to 72 hours. If you found the article perfect then you are good to or if you need some corrections, you can ask for revision.
Approval: When you'll request the revision for a reason, the writer will correct and re-submit the revised article to you for approval. If article is good, you can download and publish on your blog.
Who should subscribe to Content Fuel?
Content Fuel is for everyone who wants to offload his content writing, let it be you are a blogger, marketer, marketing agency, or business. They have designed their services keeping every aspect of content writing in mind.
You should join their platform if you are looking for professional content writers who are experts in their niche. Their affordable pricing plans make it possible to fit in everyone's pockets without compromising with quality & research.
Services offered by Content Fuel
Content Fuel offers various services starting from blog & article writing, infographic designing, and email newsletter writing. Let's have a look in brief:
Blog & Article Writing: The team ContentFuel offers professional content writing service to businesses, marketers, bloggers, etc.
Infographics: They not only writes articles and blogs but also designs infographics for you. You need to give them theme & visuals for your infographics and rest will be taken care by them.
Email Newsletter: Email copywriting is essential for any marketing campaign and again the team is backing you with Email Newletter writing service too.
The benefit of Using Content Fuel Services
# Easy to Use
Signing up is really easy with the Content Fuel and placing a request for article writing is easier than that. You need to fill a form according to your requirement like a topic, keywords, length, etc. Subsequently, a professional writer will be assigned to you. You can communicate with the writer and brief him about the article. The article is submitted to you with 48-72 hours.
Moreover, you can request a revision, if you feel that article is not up to your requirements. The writer will re-write the article and re-submit to you for approval. After finalizing the article, you can download the article and move on to the next.
# Professional Writers
The best thing about the platform is its professional content writers. You don't need to vet and hire the writer, just simply focus on the growth of your business. Because ContentFuel is doing it for you. They only hire professional content writers who have a vast knowledge of their niche.
# No Contract
Another great benefit of using ContentFuel.co services is no contract. You can terminate your memberships whenever you want. They offer various pricing plans depending on one's use. So, buy what you need.
# Monthly / Yearly Pricing Plans
Flexible pricing plans offered by the platform are one of the best offerings by ContentFuel. They offer monthly as well as yearly pricing plans. You can opt for a suitable pricing plan according to your content writing requirements.
Content Fuel Pricing Plans
ContentFuel.co offers two types of pricing plans; one is monthly and the second is yearly. The yearly content writing plan comes with a discount of 15%.
The Content Fuel pricing plans are:
Plans
Monthly
Yearly (15% off)
Services
Starter
$389
$330.65
*All content types
*48 – 72 hrs turnaround
*Dedicated writer
*Dedicated account manager
*6 – 8 blogs per month
*Up to 4k words per month
Professional
$698
$593.30
*All content types
*48 – 72 hrs turnaround
*Dedicated writer
*Dedicated account manager
*15 – 20 blogs per month
*Up to 10k words per month
Agency
$1299
$1104.15
*All content types
*48 – 72 hrs turnaround
*Dedicated writer
*Dedicated account manager
*30 – 40 blogs per month
*Up to 20k words per month
Bottom Line
To sum it up, the platform offers a professional content writing service at reasonable pricing. The best thing about their services is the quick turn-around time and professional writers based on the topics/niche. Once you submit the article writing request from auto assigning the writers to communicate with them and revision requests; all are seamless.
If you want to focus on the growth of your business then you must offload some of your tasks and content writing may be one of them. The blog and article writing services provided by the ContentFuel.co are top-notch, plagiarism-free, and copyright-free. You must utilize their expertise to grow further.