I am going to review the "Penji – Unlimited Graphic Design Tool". let's see how it can help you out in your next Graphics Design Project.
There are millions of Blogs and Vlogs are going live on the Internet every single day. Here, you need to stand out in the crowd and killer graphics help you to achieve this. Penji – a newly introduced graphic designing and editing tool is here to help you out.
What is Penji?
In a single line, Penji is a graphic design tool with a dedicated graphic designer with unlimited graphic design projects.
Yes, you read it right! Unlimited graphics and a dedicated human graphic designer.
In detail, Penji is an on-demand graphic design tool with a graphic designer than can deliver you a graphic project when you need that.
They offer unlimited graphics at a flat monthly fee. That means you don't need to pay them a per-project fee. You can opt for monthly, quarterly, or yearly plans.
If you want to check out the features of the tool then you can request a demo for Penji Graphic Design Tool.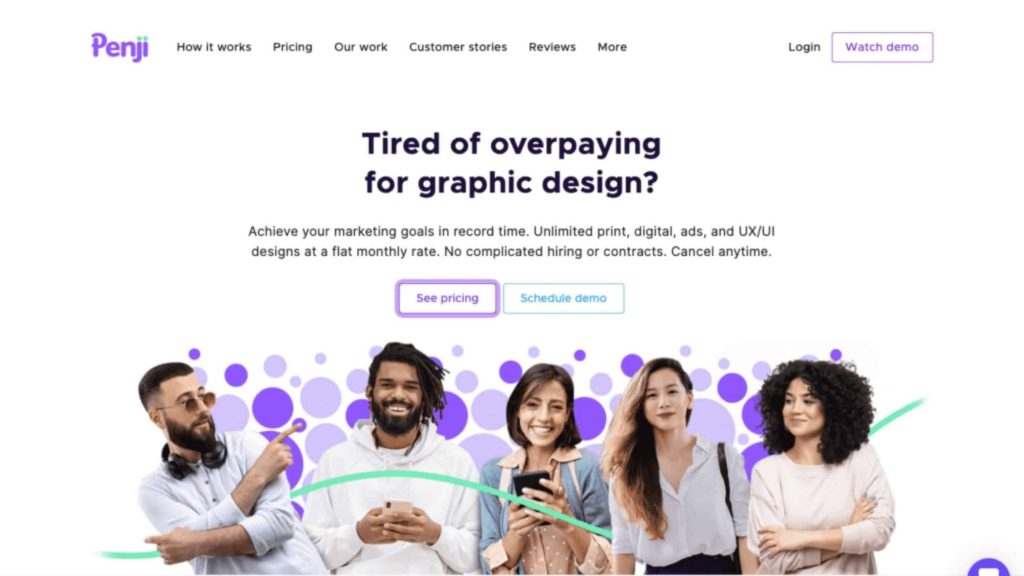 How Penji Works?
Penji's works in a quite simple way. You can understand it in three simple steps:
1. Create Design Project
You need to start a design project on the platform and specify your needs for the project. After that, you'll be assigned a graphic designer for your design project and he'll handle the project.
2. Drafts and Revisions
After assigning the graphic designer to your project. The designer will start working on your project. The designer will complete & deliver the draft project within the next 24-48 hours. If you need any revisions or amendments in the project then simply request the revision and you will get the amended project.
3. Complete and Download
When you are satisfied with the draft design project you can simply download it. And here, you are good to go with your graphic design. Simple!
Penji Features
Penji has great features and offering with a great price tag. Here are some of the best features of Penji:
1. Unlimited Design Projects
This is really problem solving because most of the time a graphic designer work with a per-project fee model. But here at Penji, the graphic designer will work with a flat fee model for unlimited graphic design projects.
You don't need to worry about your pockets, as you can create as many projects for a flat monthly fee starting from $399/month. A detailed fee structure is explained in this review later.
2. Unlimited revisions
The tool gives you the privilege to create unlimited projects. Not only that, it also gives you the unlimited revisions for your unlimited graphic design projects until you got satisfied with your project.
3. Fast turnaround
When you are on working on a project, time is a crucial parameter. You might be working for your client or yourself where you've tight deadlines. Penji comes with a faster turnaround of 24-48 hours. That is really quick. When you'll submit your design project with Penji, they will deliver your draft project within 24-48 hours.
4. Human support
Another great feature that helps a lot when you are stuck with your project and you need a quick support response. I've personally seen that even big companies don't provide human support. You've to face those irritating bots asking pre-assigned question sets. But this is not the case with Penji. They provide human support for all its customers.
5. Team collaboration
Penji allows you to add 2 users from its lowest subscription. So, when you are working with your team, it is quite easy to manage projects. You can add upto 10 user to your account in Agency plan.
6. Ownership of files
If you've paid for something and don't have ownership! How irritating will it be? Again, Penji won't disappoint you. When you are done with your project and downloaded that, you are the owner of that design/art. You can use that design as your own with full ownership rights.
7. Flat Monthly Fee
Whenever you are opting for a paid subscription for a tool the pricing will be always a concern. Because most of the tools charge the pricing per- project. But this is not the case with Penji because here at Penji you'll be charged a flat fee for unlimited projects. Even the pricing will be discounted if you opt for a yearly or quarterly subscription.
8. Money Back Guarantee
Another great thing with the Penji's15 day money-back guarantee. So, you can try the tool without worrying about your money. If you are not satisfied with the services offered by them you simply request the cancellation of your monthly subscription.
9. No Contracts
If you want to cancel the membership anytime, you can do it. You don't have any contract to obey for any fixed time.
Penji Pricing Plans & Services
Penji has three types of pricing plans, Pro, Team, and Agency. Each plan has different set of access.
The Penji pricing plans are starting from $339 when you are paying for a full-year subscription and starting from $399/month when you are paying monthly. You can better understand the pricing model in the table below.
Penji Pricing
Penji pricing plans are as follows:
| Duration/Plan | Pro | Team | Agency |
| --- | --- | --- | --- |
| Monthly | $399 | $499 | $899 |
| Quarterly | $359 | #449 | $809 |
| Yearly | $339.15 | $424 | $765 |
Penji Plan Offerings
Plan
Offering
Pro
# Unlimited design projects
# Unlimited brands
# 1 designer
# 2 users
Team
# Everything in Pro
# Website & app design
# Custom illustrations
# Infographics
# 5 users
Agency
# Everything in Team
# 2 designers
# 10 users
# Prioritized support
Penji Services
You can create different types of graphic designs with the Penji. Here are the graphic design services offered by Penji:
Advertisement
Album Covers
App Designs
Annual Reports
Awards
Banners
Product Labels
Blog Designs
Cards
Book Graphics
Catalogs
Certificates
Illustrations and more
Conclusion
Penji is a great graphic design tool that offers a userful feature with a flat fee model. You can create unlimited graphic design projects with unlimited revisions.
The most satisfying part of this tool is, it has Human Graphic Designers behind it. When you submit a graphic design request, a human graphic designer will be assigned to your project.
In my opinion, the Penji is a great graphic design tool at affordable monthly pricing with unlimited access.