Hey, are you looking for an unbiased review on EaseUS RecExperts? Here it is.
If you are a content creator then you definitely need a good screen recorder to deliver quality content i.e. tutorials, lessons, or webinars. A screen recorder software is an essentials tool for streamers, Youtubers, and gamers also. If you are one of them, EaseUS RecExperts should be on your shortlist of Screen Recording Softwares. This is a premium tool introduced by the well-known Data Recovery Software provider EaseUS.
Must Read: Best Videos Editing Softwares for Windows
What is EaseUS RecExperts?
EaseUS RecExperts is a premium Screen Recording Software by EaseUS.com for the Windows operating system & Mac OS. It is a multi-function screen recording tool that supports screen recording along with WebCam recording. Also, a user can record full-screen or a selected area of the screen.
EaseUS RecExperts Product Highlights
Supports – Windows 7, Windows 8, Windows 10 & Mac OS
Full-screen and part-screen recording
Screen recording with webcam, audio
Gameplay record
Task Scheduler
Advance Editing while recording (add arrow, lines or texts)
Remove background noise and boost your audio
Zoom Function – Zoom-in any desired region
Locked Windows Recording – Records a specific window or program, regardless of which applications or programs move in front of it
Spotlight recording focusing one object
Export videos directly to Youtube
Save the recorded footage for more than 10 formats, like MP4, WMV, AVI, MOV, FLV, ASF, etc.
EaseUS RecExperts System Requirements
EaseUS RecExperts supports Windows 7, Windows 8.1, Windows 10, and Mac OS. Initially, the EaseUS Screen Recorder was released for only Windows OS but later the Mac OS version also got released. The software will install on your system drive as a standalone app. You don't need any additional add-ons.
EaseUS RecExperts Supported Video/Audio Formats
EaseUS RecExperts supports MP4, WMV, AVI, MOV, FLV, ASF video formats and Wac, MP3, and AAC audio formats. These are quite good numbers.
EasueUS RecExperts Supported Image Formats
The EaseUS Screen Recorder supports the BMP, JPG, PNG, GIF, and TIFF image formats. Again, it will help you to include pictures from a variety of photo formats.
EaseUS RecExperts Features
The EaseUS Screen Recording Software comes with a lot of in-built solid features that can be used with ease.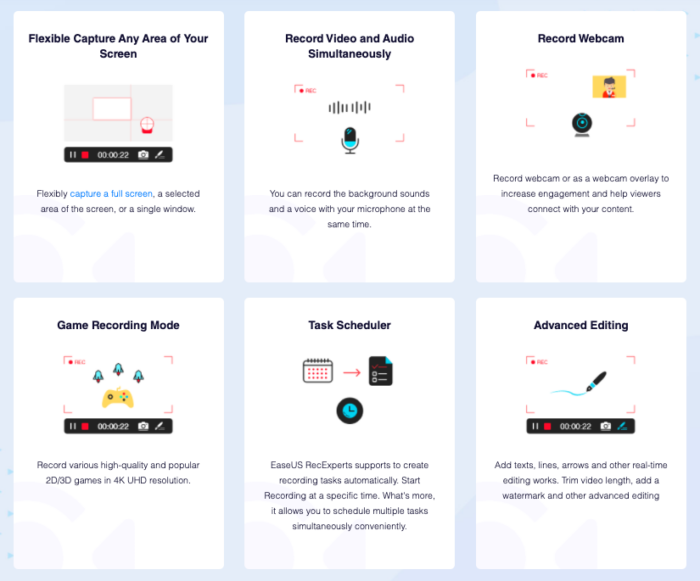 The EaseUS RecExperts features are as follows:
Flexible Capture – The user can select the full-screen recording, a selected area of the screen, or a single window with ease. This feature will help you create while creating videos where you don't want to expose a certain part of your PC screen.
Record Video & Audio – The user can record the video with the background sound and voice with an external Microphone simultaneously. Another amazing feature for creating quality and interactive content.
Record Webcam – You can record the only Webcam or the Webcam as an overlay on a video for better content delivery. This feature is very helpful for those creators who record tutorials, where they need to capture screen but wants to add themselves in the video to enhance the content engagement.
Gameplay Recording – The software comes with dedicated functionality for recording high-quality 2D/3D games in 4k UHD resolution. If you are a gamer and want to record the gameplays in 4K UHD, the RecExperts will help you seamlessly.
Task Scheduler – You can task schedule for recording so that you can manage and execute multiple tasks simultaneously.
Advance Editing – The software also comes with advanced editing functionality, as you can edit the screen recording while recording. However, the tools are limited to adding texts, lines, arrows, etc. But, very useful for creators those record tutorials and need some indicators to mark the objects on the screen.
Remove Background Noise – A must-have feature for the video recording and editing tools and the EaseUS RecExperts have it. Who wants useless noise in their videos; No-one!!! EaseUS RecExperts have in-built functionality to remove the background noise. So, you don't need third-party software to remove it.
Export to YouTube – If you a YouTuber, then this can be a time-saver feature for you. You can simply record, edit, and export the videos directly to Youtube.
EaseUS RecExperts Pricing
The RecExperts by EaseUS offers two pricing options; one is free with a limitation of 2 minutes of video editing and another for $19.99.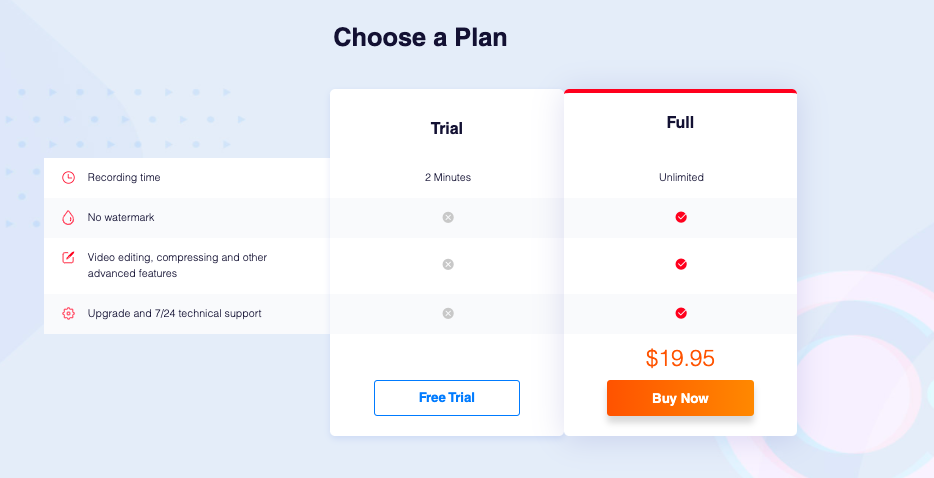 How to Download & Install EaseUS RecExperts?
You can simply download and install the RecExperts by following these steps:
First, go to the official download page of the tool
Now, Scroll down to the desired tool, here the RecExperts.
Click on the Download Button.
Now, the software will be downloaded to your device. You can find it in your download folder.
After downloading double click on it to install on your device.
The software will be installed on your device, you can start using it.
How to Upgrade to EaseUS RecExperts Full Plan?
If you want to use it as free software, you don't need to do anything after installing it, just keep using it with a 2-minute time limit. If you want to upgrade it you need to buy a license key to activate the software.
After buying the license key, click on the uper-right corner of the software dashboard and click on Key sign as shown in the below image.

After clicking the Key sign, you'll see the popup as shown in the image below.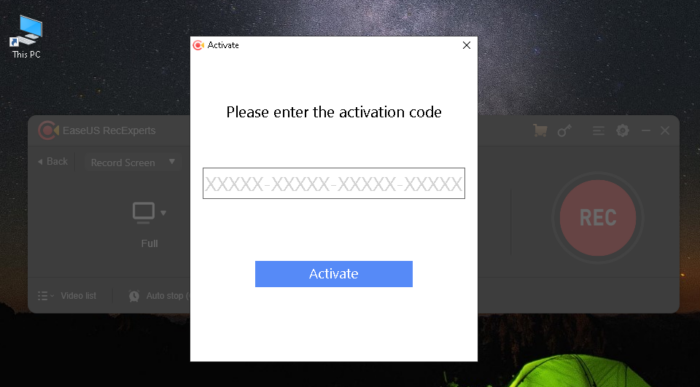 Here, enter the keys that you bought from the official website and click on the Activate button. That's it!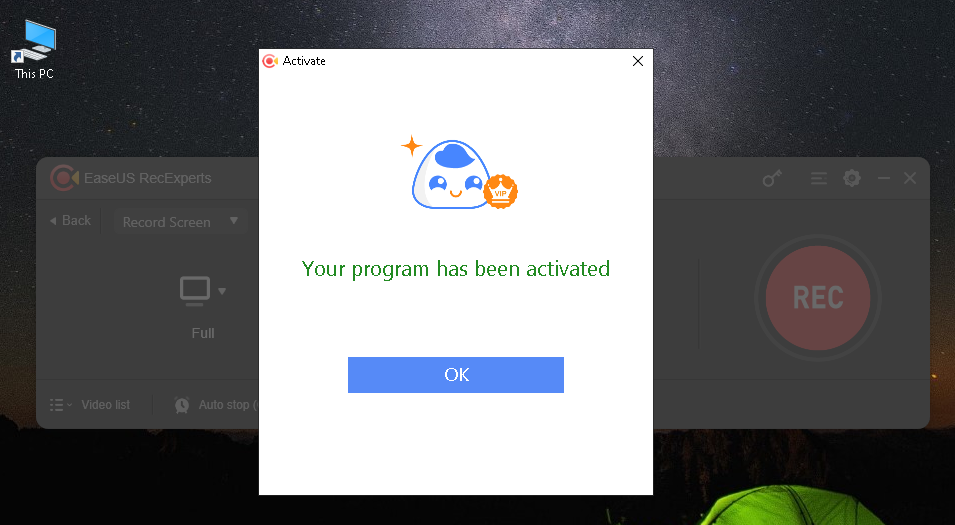 Now, you've no uses limit on the software. Enjoy recording and editing.
Conclusion
The EaseUS RecExperts is a simple and easy-to-use screen recording tool for Windows & Mac OS users. The tool comes with plenty of features with a great price tag. The RecExperts by EaseUS is on my shortlist.