EaseUS PDF Editor Review – Do you want to use PDF documents to present your business documents? You can now make the entire process easier with the EaseUS PDF editor. This pdf management software is also efficient for getting the business documents in the right order.
For decades people have been lamenting on what to use to make their business documents look presentable. They have also been spending a lot of time coming up with the right order of the business document. However, with the new technology, people grasp tangible ways of encountering the whole situation. Today, there are the best and quality PDF editors where people can choose without any challenge. Every pdf editor has its weaknesses and strengths, making it easy for you to choose what will perform the best.
Must read: EaseUS RecExperts Review
EaseUS PDF Editor Overview
This is an all-around program designed for converting, editing, viewing, and creating PDF documents. It can make everything right, especially when looking for a means to make your business documents in order. It also comes with amazing characteristics, including.
Remove watermarks from PDF – the watermarks in your files may make it hard for the readers to get the information. However, you can easily remove the watermark from your pdf through the EaseUS PDF Editor.
Convert word document to PDF offline – you can easily use the EaseUS PDF Editor to convert your word document to pdf offline without any challenges.
Scanned PDF files are editable – the EaseUS PDF Editor features Optical Character Recognition (OCR) technology, allowing you to easily convert the scanned PDF files for editing.
Search and replace – it is one of the most common features in all pdf management software. It allows you to easily locate and replace a particular file in your pdf.
Change background – the EaseUS PDF Editor allows you to make changes to your PDF's background.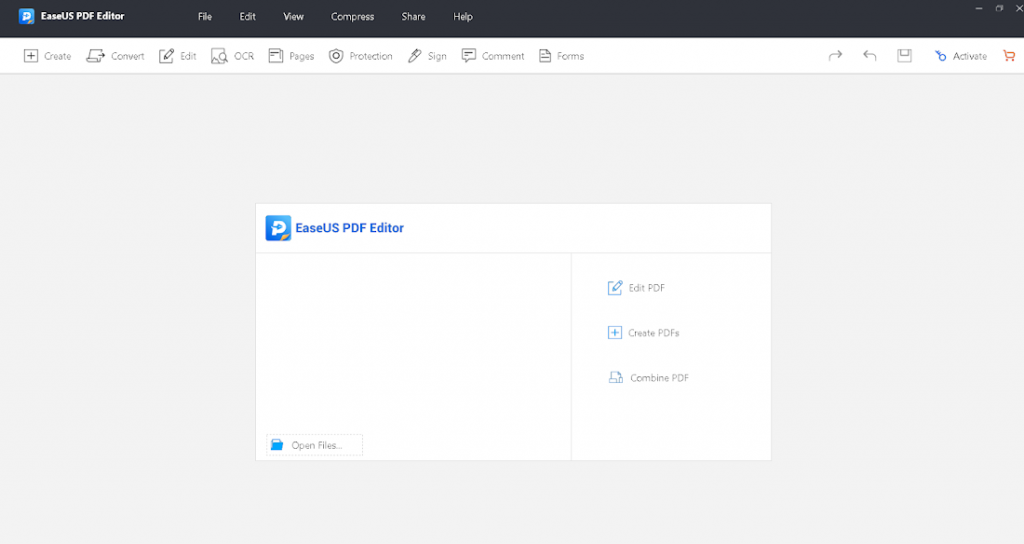 Read Mode
You will likely want to have a PDF document with various forms. The EaseUS PDF Editor offers multiple options that you can use to view your document. It also comes with a read mode which allows you to easily read the book. It reduces the size of a file, optimizes the current document for easy reading.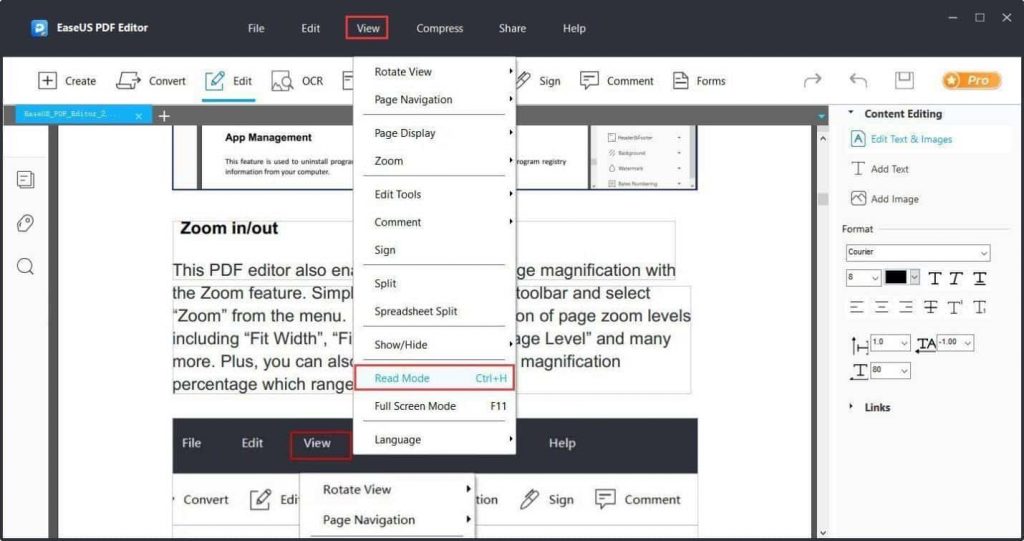 Create, Edit, and Comment
You only need to click and get things done when introducing a blank PDF file or converting images to PDF documents.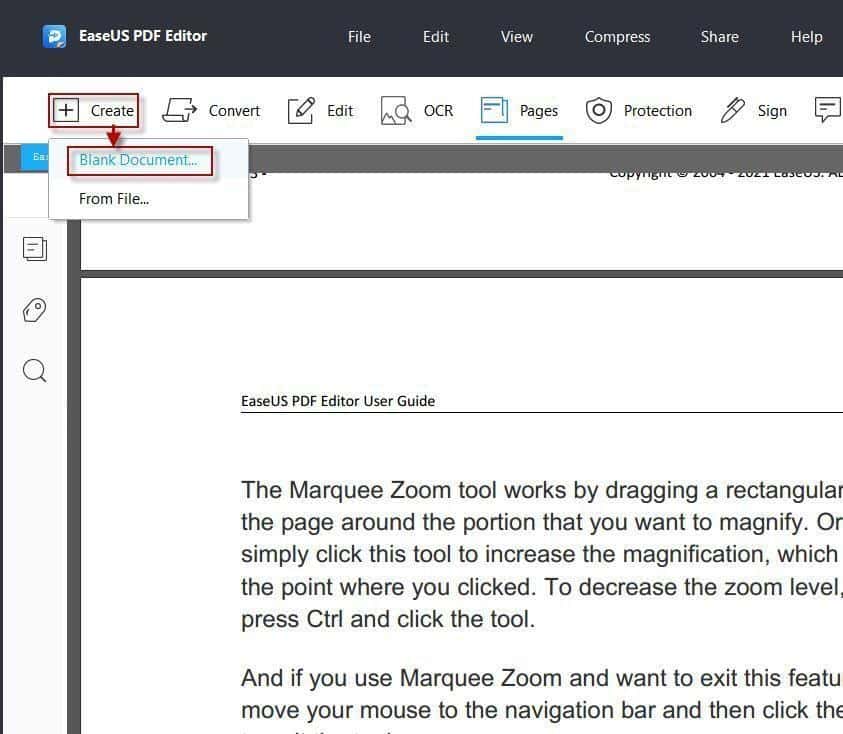 Edit Text & Images
One can easily edit the image and text in your document using the edit option. This allows you to fix the image and text while making adjustments to your text's shape, size, and color. You can easily strike through the text, document is adjustable, image and text can easily be edited in the bar. It also allows the addition of images and texts to the document.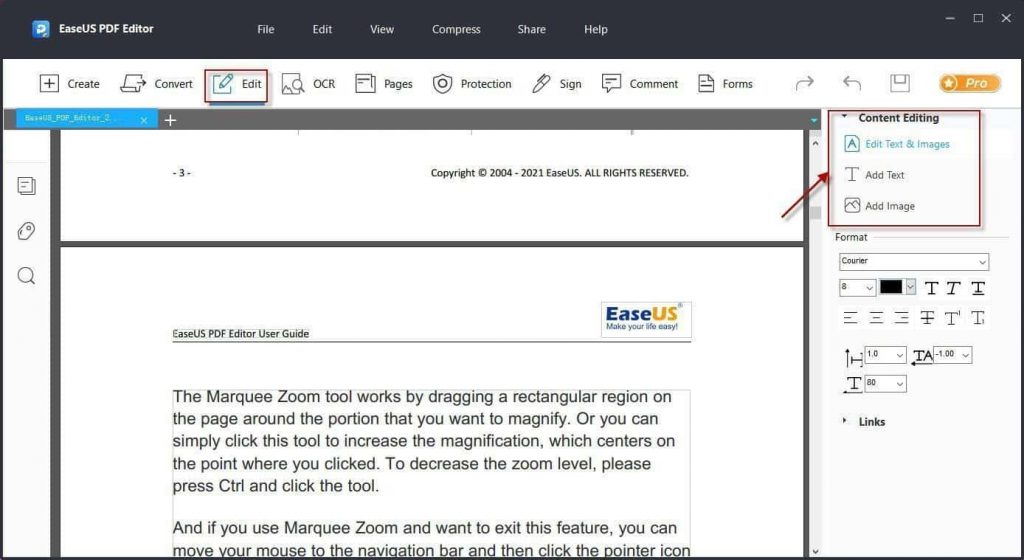 Optical Character Recognition
Most PDF documents tend to be challenging when it com to converting them to editable form. However, the EaseUS PDF Editor features OCR technology to scan any document and convert it to an editable format. All you need to do is to select a language of your choice. The languages include English, Chinese, Italian, Japanese, and German.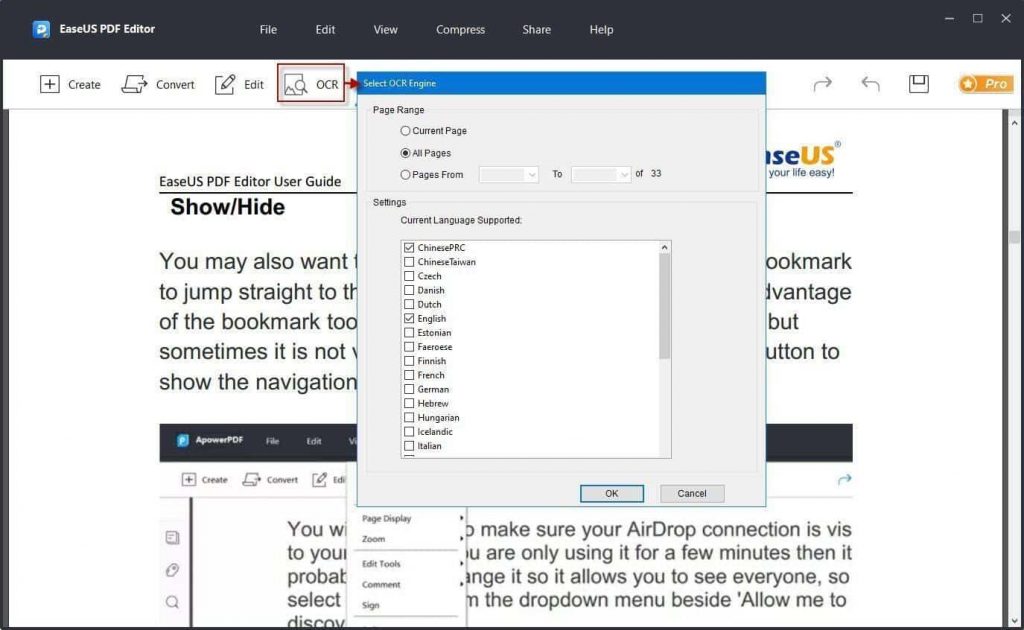 Form, Signature, and Protection
You can easily add and customize your forms in the PDF document using this pdf management software. It also allows the importation of data from different forms. Literally, the addition of signatures in PDF documents wasn't easy before the invention of pdf management software. Today, you can add both hand-written and digital signature, which features the time, location, and date of the signature and the purpose for signing.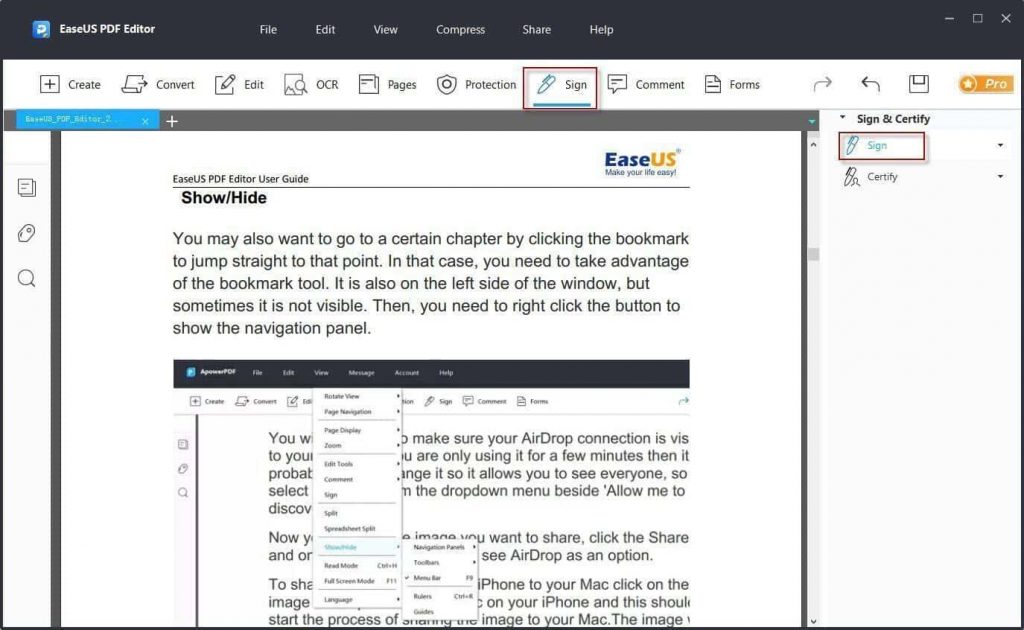 PDF Protextion
Consider securing the PDF document to limit access by adding a security code. The pdf management software offers an option for two types of passwords. Permission and document open password. The permission password restricts editing, printing, copying, and signing. While documents open, the password restricts the document from being opened.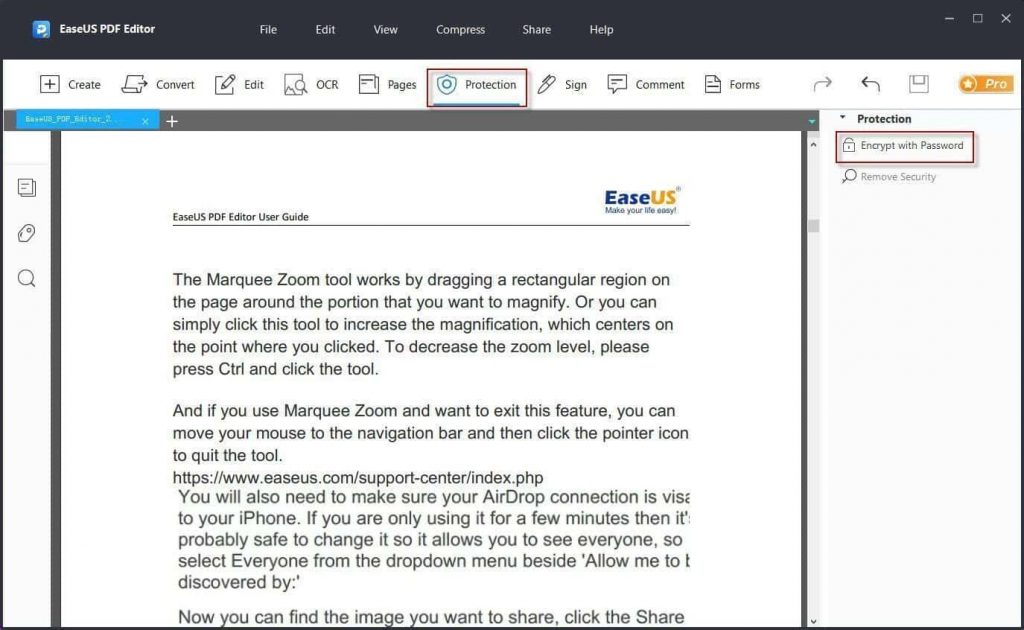 Pages and Support
The page tools are located at the menu bar. You can easily delete, insert, split, crop, combine or rotate different pages of the document without any challenges.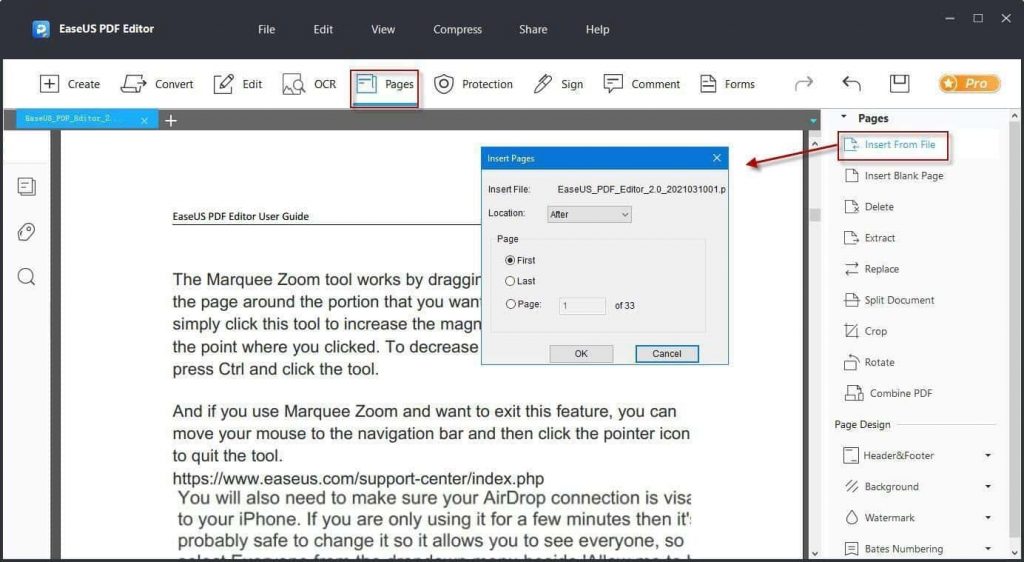 Watermark Removal
You can also the pdf management software to get rid of the watermarks from your PDF document. This technology allows you to have clean and presentable work.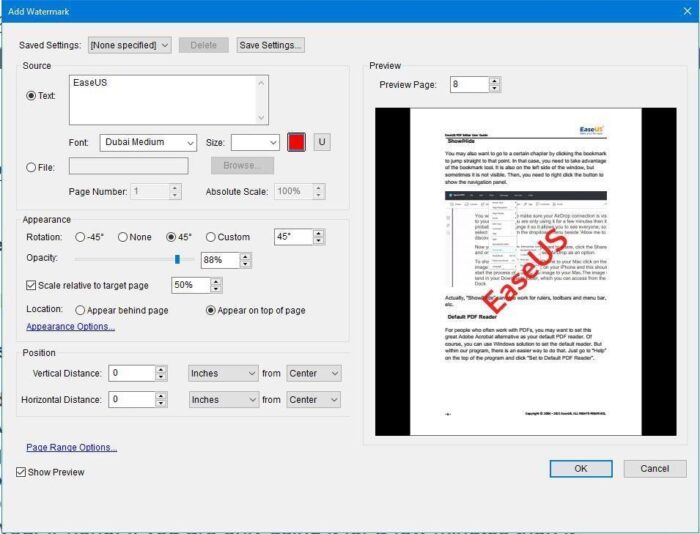 Professional Support
However, in case it turns out to be challenging, consider approaching the support team for clear clarifications. The support team operates 24/7, thus offering you ample time to present your issue in detail for help.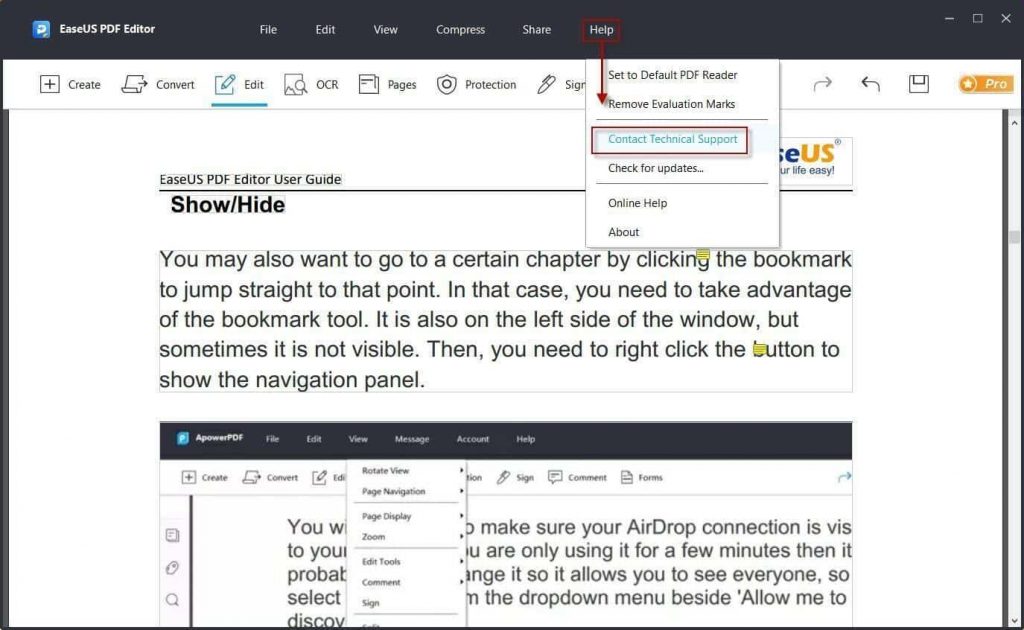 EaseUS PDF Editor Pricing Plans
The EaseUS PDF Editor comes with two pricing options; one is free with a limitation of 5 page PDF editing and another for $29.95.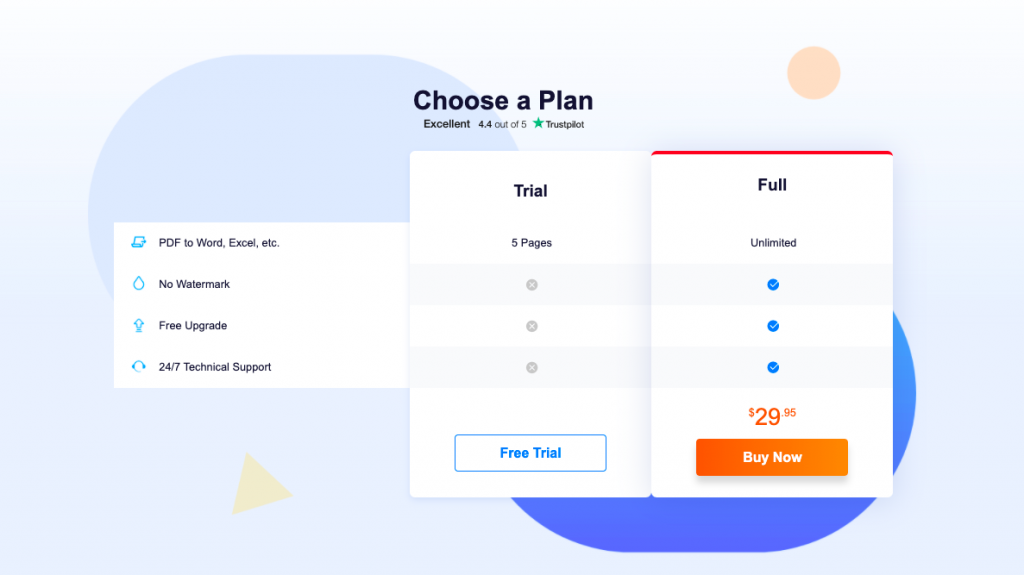 Conclusion
The PDF editing software is now available in the market. Make your work easier by tying this amazing technology. Use your pdf editing software to form an editable document that can be understood by anyone. This technology is better, and it applies to anyone who needs a perfect editing program. EeaseUS PDF editing software is way better than the Mac operating system and other editing programs. There it is essential that you choose the appropriate technology to bring out the best.
For instance, the OCR technology features different languages. It allows you to edit a scanned document which seems to be challenging when using other forms of editing. This is why you should prefer the pdf editing software to any other. Security is also vital when it comes to the protection of documents. All this is available in this software, making everything easier. You can easily access all the helplines for guidelines or help.