Everyone loves grooming and men are no exception! They do care about their appearance and want to look good! While the ongoing pandemic has pushed all of us back into our homes, going out and dressing up sounds like a distant dream. It's all the more important to spend time with yourself, pamper yourself and make yourselves feel good. And one way of doing it is by not giving up on grooming! Taking care of your appearance adds to your sense of wellbeing and keeps you motivated (and yes entertained) through these difficult times.
Now, whether you choose to grow your beard or hair out, give yourself a 'maharaja makeover' or want to flaunt a goatee, you will need a device to give it the desired shape. Even to maintain a long beard, it's always recommended to trim it every now and then. This ensures good growth as well as keeps your beard and hair going wild.
Now, how can you do all of this from the comfort of your home?
Well, if you want to go old school and use a scissor, then do that at your own risk. While it can definitely be used for various purposes, the function of trimming your beard and your hair is better performed by an actual trimmer for men.
Now that we have agreed that owning a hair trimmer can make a lot of difference, allow us to introduce you to one of the best trimmers for men:
Meet boAt Misfit Trimmer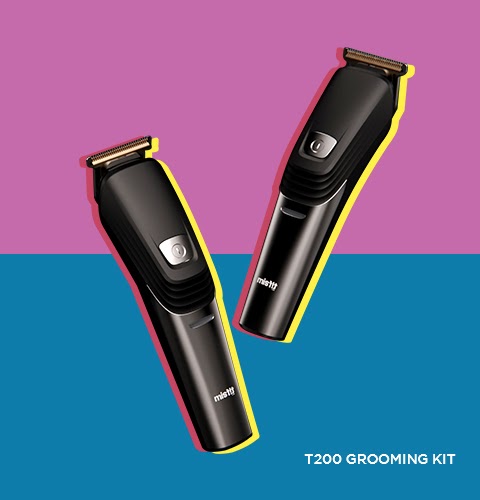 A new-age beard trimmer for men, ergonomically designed to meet the needs of the modern man! It will take care of all your beard, hair, and body grooming needs, as it comes equipped with 6x beard trimmer heads for men, 6x combs, 5 length settings, and a trimming range of 0.5 – 12 mm.
Let's dive into the details and tell you why it should be a part of every shaving kit for men:
Convenient to use & carry
Let's be honest. Most of us are already in a hurry.. And that's why we have surrounded ourselves with gadgets and devices that require minimum maintenance and are easy to use.
This best trimmer for men is designed while keeping all of this in mind!  Strongly built and portable design makes it essential for your grooming kit. Its lightweight and sleek body, is not going to be a problem at all and you can carry it around anywhere.
As you are going to use your hair trimmer in a washroom, there are higher chances of it getting damaged because of all the water that's around you!  But you can use this hair trimmer for men without any worries. The IPX4 water and splash resistance rating keeps it protected against accidents.
Skin-friendly blades and easy to use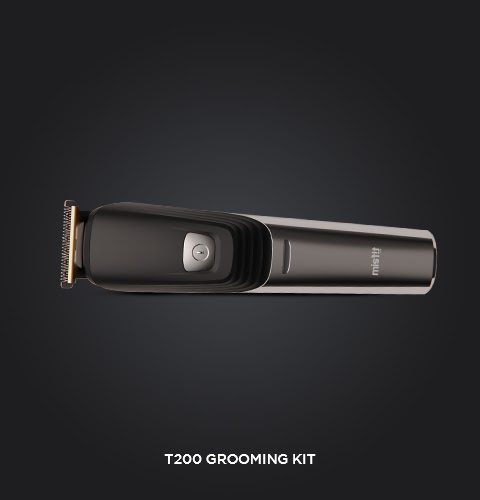 Equipped with skin-friendly and corrosion-resistant titanium blades, it doesn't tug against your skin. They just go against the extra hair but don't harm your skin. You will not experience rashes or burns and will have a seamless grooming experience.
It's designed in a way that your hands just wrap around it naturally and you face no difficulty in moving it around. It offers an easy grip!
It lasts long!
Now imagine this. You are in the middle of a trimming session… And suddenly… Your trimmer stops working. Why? Just because it ran out of battery! And since you were only done with just half of your face. You look in the mirror with utter horror!
Well, with this hair clipper by your side… You can avoid such nightmarish episodes. As it not only provides 120 minutes cordless run time..! You can even choose to go cordless or use the cord in such times which will pull you out of any desperate situation like the above!
As versatile as it gets: 6-in-1 grooming kit
If you like experimenting with your beard, then this beard trimmer for men is going to be your new stylist cum best friend! It comes with different trimmer heads that let you cut the hair of different lengths. There are 6 different types of hair clippers that you can fit and use to do whatever you want:

The full-size trimmer head lets you fade or taper beard and head hair.
The precision trimmer head allows you to define beard/mustache lines and trim sideburns. The micro shave clipper lets you shave all detailed areas around the mustache, beard, and eyebrows. The nose clipper lets you maintain your nose, ear, and eyebrow hair. And so on…
So stop waiting now.. Get your hands now on the best hair trimmer for men and start experimenting with your looks. What's also interesting to know here is the fact that the trimmer for men price is such that it will not burn a hole in your pocket and it will definitely be worth every penny!