Hey, are you looking for Free SMS Apps for Android to send text messages from your mobile? Here in this article, I am going to discuss all the best free SMS Apps for Android Mobile phones.
Uses of Free SMS Apps for Android?
All the 90's generation has been so relieved with the advent of the internet that the hassle of recharging their mobile phones with SMS packs has been done away. It used to be such a costly affair and that too with only 100sms/day.
People used to really save the messages because calling someone was still costlier than sending SMS. Even now, people are more fond of texting than calling, and that's why even in the era of WhatsApp, Line, hike, and other popular messenger apps, many people look for apps where they can send messages for free.
Read more to find Best Apps to Hide Text Messages on Android
Benefits of Free SMS Apps on Android?
There are people who might think who is gonna use these Free SMS apps for Android when there is WhatsApp available.
You must be wondering, why?
But what should one do when you don't have data available or internet connectivity?
Even now, for example, when traveling, we face poor networks and slow internet connectivity, and it gets very boring. These apps might come handy in such situations.
These free SMS apps make sure that our privacy is maintained as no data is uploaded online. Thus all our information and chats are secured, and no information is leaked anywhere.
Let's take a look towards the most popular free android SMS apps which people have been using or can use for sending messages and trust me that you will simply love them:
Best Free SMS Apps for Android
SMS Organizer by Microsoft Garage
Messages by Google
Textra SMS by Delicious
Messenger for SMS
Messages by Reliance Corporate IT Park Ltd
Go SMS Pro
Switch SMs Messanger
MEI Texting +AI
Chomp SMS
SMS Organizer by Microsoft Corporation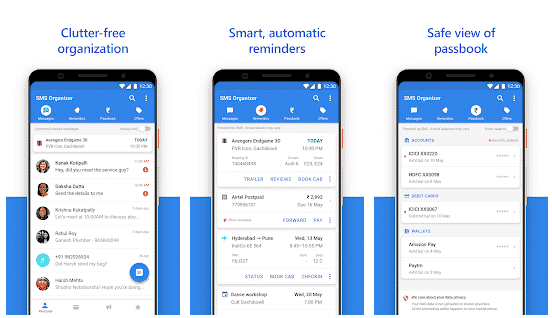 It is one of the cleanest and smartest apps designed for SMS services. It enables us to do many things which make life simple for us. Like it sets reminders, keeps track of inbox messages, and prioritizes everything. It helps to track our train timetable, location, and schedule without net connectivity. It is a free SMS app.
All the offers and coupons messages received can be synchronized in one place hence easing out everything. We can even search them through the web as well. It doesn't read any of our sensitive information and yet helps us to track our different account expenses in one place.
It also assists in setting reminders for all your appointments and assists in tasks such as web check-in, etc. There is so much to do with this app. Just download it and try it out for yourself.
Messages by Google
It is a Free app for Android for SMS by Google and is for Android version 5.0 or above. It's very clean and comfortable to use. You can either text(SMS & MMS) or chat(available through wifi or data).
This offers a rich platform for sharing graphics, emoji, send and receive payments through GOOGLE PAY. We can even search our message history like videos, audios, links, etc. with any contacts.
We can send group messages and remain in touch with all our friends and family. It's a great app to try and use.
Textra SMS by Delicious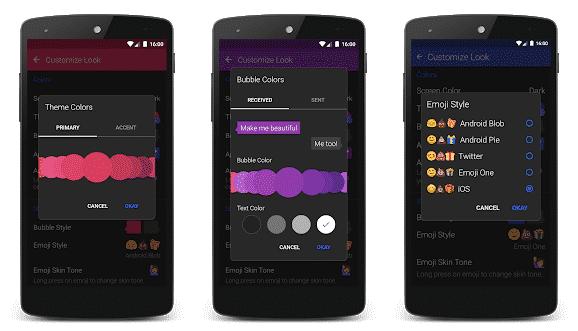 This is such a beautiful app designed for giving rich user experience. It provides SMS & MMS service. It's totally free of cost and comes in more than 180material design themes, icons, and keyboards.
It is for both Android and iOS and very popular. Its customizable features are amazing like for individual contacts, you can send scheduled SMS or MMS, smart pop up for a quick reply, notification settings, and much more.
You can send audio, video, graphics, GIFS, and emojis. Slide and send, delete messages, and open the camera. It is a very engaging and fun app designed to meet all your needs. Must download.
Messenger for SMS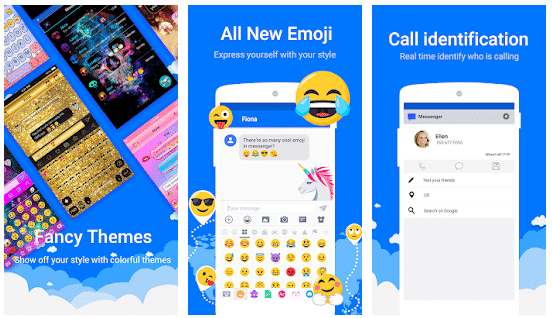 It is one of the best messenger apps for texting and calling. It comes with countless themes and appearances for providing a nice user appeal. It's simple to use and very convenient. It is fully customizable and contains more than 3000 emoji and stickers. It makes texting more fun.
This app is fully protected, and you can even block someone, restore your SMS, or have a backup so that nothing is lost. It's a great app to replace the stock message app. There are so many new and advanced and interactive features that make it a standout among the crowd. Check it out!.
Messages by Reliance Corporate IT Park Ltd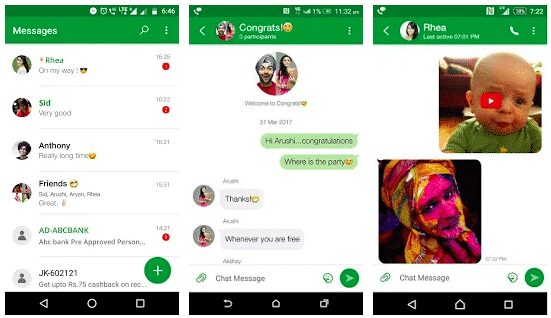 It brings both features of text(SMS & MMS) and RCS(Rich communication service ). RCS service can be availed by only Jio sim users and helps to share chats. Other features of this app are that you can share audio, video, location, group chats, and do normal texting. You can download the app and replace the stock message app.
Go SMS Pro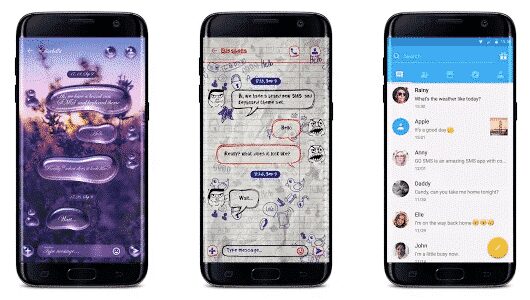 It is a very engaging and interactive app with some of the great new features. It can be fully personalized and customized based on specific needs. It's not totally free and contains ads and in-app purchases for upgrading to some new features.
It's a great app and some of the distinguishing features are:
Delay to send: helps to edit messages before sending
Avatar popup: to show the contact avatar when a new message arrives
Go chat: for personalized SMS
Folded stranger messages: For new conversations or messages from unknowns
Sticky conversations: frequent conversations can be pinned for quick access
Switch SMS Messanger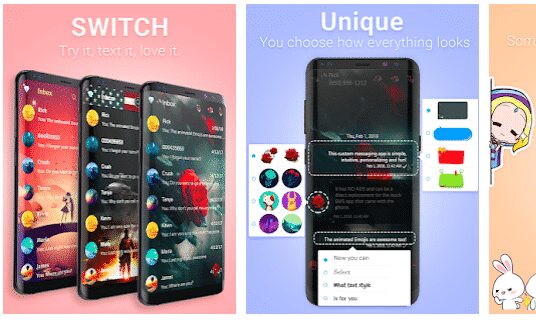 Got bored with the usual interface of your stock message app? If yes, then switch to this amazing app and fall in love with texting all over again. It comes with great features and helps.
You personalize the look as many times you want. You will never get bored with the interface. Also, you can send and receive SMS, MMS, OR CHATS. Only phone, SMS, and contact information is required and is totally free to use. You can have personalized themes for every chat, private messages, unique stickers, and emoji to make conversations more interesting and fun.
Never miss out on sending messages by it's scheduled message service. Block SMS, delete SMS, pin conversations, dual sims, and much more. The look and feel of this app are beautiful, and you can simply fall in love with this. For more features, you can make in-app purchases as well.
MEI Texting +AI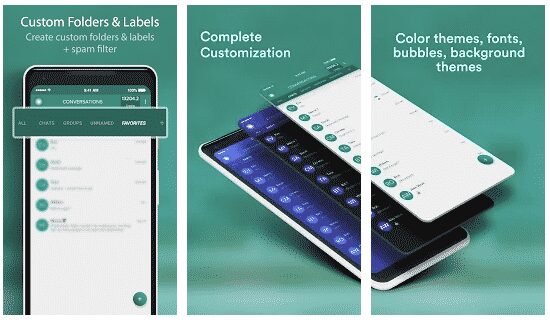 This is one of the newest apps that is developed to help and assist you with so many things. The AI assistant will help you in having better conversations with your boss or your partner and will tell you about many things beforehand by going through your chat history and conversations.
This app can reveal the personalities of the sender so as to better equip you with information that can help you make more informed decisions and not miss out on some great opportunities. It is end to end encrypted. It can be used for international texting, but the other person should also have this app.
Few in-app purchases have to be made for using some features. The AI assistant is optional. It is fully customizable and is free to text anytime, anywhere. Audio and video messages can be sent.
Chomp SMS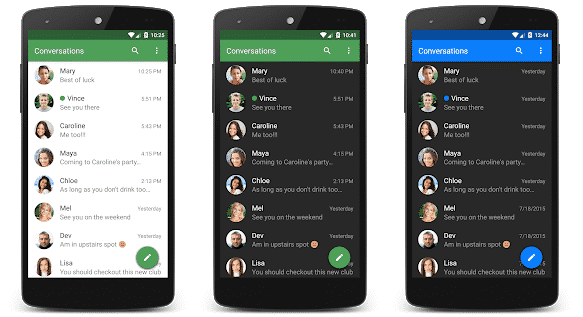 Chomp SMS is an all-new, completely free app for sending free SMS for Android. It is ultra customizable and has many exciting features like unlimited emoji and unique stickers, normal SMS AND MMS services, chats, audio, video sharing. It is also compatible with Android watches and wearable gears and also integrates to give desktop notifications.
You can change notification led settings, ringtones, and vibration settings and also give new themes to each contact. You can pin conversations, block users, dual sim. It is encrypted and allows for passcode lock and various privacy options. Change color, font size, font style, and background wallpapers.
Summary – Best Free SMS App for Android
Isn't it simply amazing to get in the feel of texting all over again with so many new and exciting features that integrate many apps into one to give you a great experience?
Without incurring any additional costs and data requirements, we can still communicate to our loved ones anytime and anywhere and that too in a fun way. New stickers, emojis, and gif help to make our conversations more fun.
Just download once and enjoy the seamless benefits of normal SMS and messenger features. It's said old is gold. And when the old is reborn, it becomes a diamond!! And trust me, these apps will help you be social or private as and when you want. No headache of last seen, or privacy being leaked, or unnecessary forwards in groups. You can customize everything and keep track of your professional needs as well through one app.
So what are you waiting for? Go to the play store and try out one for yourself and do leave a comment on which is your favorite app and why?