Best Apps to Hide Text Messages – Today in the era of Technology and the Internet, we all are using online messaging apps or platforms like Facebook, WhatsApp, Messenger on our Android Devices. Even after evolving the Internet at such level, we are still using the Text Messenger and our Text Message Inbox is full of useful & sensitive information, i.e. Debit / Credit Card transaction details or other information. Here, no-one wants to share this information with anyone. That is why we need Apps to Hide Text Messages on Android devices.
By using a text message hiding app or an app locker we can save our data as well as information. That is why we need an App that can lock and hide sensitive data on our Android Mobile.
What is the Text Message Hider Apps?
A Text Message Hider App is an application that hides your Text messages inbox by locking it via passwords, fingerprints, or pattern lock on your Android Device. These massages hiding apps use encryption via passwords or other locking methods to hide your Text Messages.
If you want an app that can lock your applications then you must read this article about Best App Lockers for Android.
Why Do You Need to Use Text Message Hiding Apps?
Today everyone is using his/her smartphones to carry out all online transactions, for example, online money transfer or also use for other purposes. While doing online transactions we receive OTPs or passwords on our smartphone that goes to our Text Message Inbox. If someone's hands get on it, it will badly affect us.
That's why, to prevent the leakage of sensitive information from your Text Message Inbox, we need a Text Message Hiding Application.
I am going to list the Apps that have the ability to hide text messages and can keep them safe. Next time onwards these Apps are going to save your information by hiding your Text messages on your android devices. Below in this article is a list of best Text Message Hider Apps.
Best Apps to Hide Text Messages on Android are:
GO SMS Pro
Vault
Message Locker
SMS Lock
Private Message Box
Calculator Pro
Privacy Messanger
SMS Plus
Picoo Messanger
1. Go SMS Pro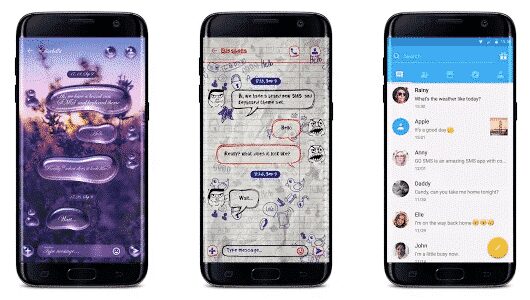 Go SMS Pro is one of the most downloaded applications on the Play Store and has more than 100 million downloads. Further, the Go SMS Pro app is the highest-rated app on the google play store. This app has great features that include hiding your contact and protect them with passwords to make your Tex message leakproof. This app is the best Text message hiding app on Android.
2. Vault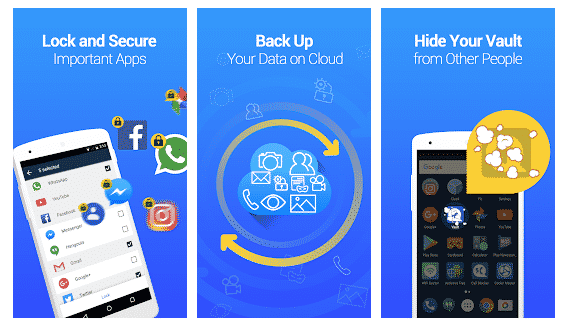 Vault is not a simple app for hiding your text message, it can also hide your gallery items i.e. photos, videos & files on your Android devices. Along with the photos and videos hiding app, the app offers the facility to hide your SMS & Call log to provide you full data protection for your Android Smartphone. The app also has a facility to hide text message notification that makes it stand among the top text message hider apps for android.
If you want to hide your photos and videos then you must read our article about Best Apps to Hide Videos and Photos.
3. Message Locker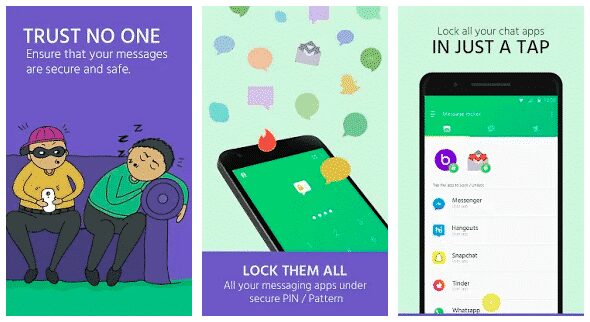 Here is another app named Message Locker App, It is also a better option to hide your text on your android smartphone. As its name suggests it is a Message Locking apps for android smartphones that help you to hide your text messages to save your information from spying eyes.
4. SMS Lock (Message Lock)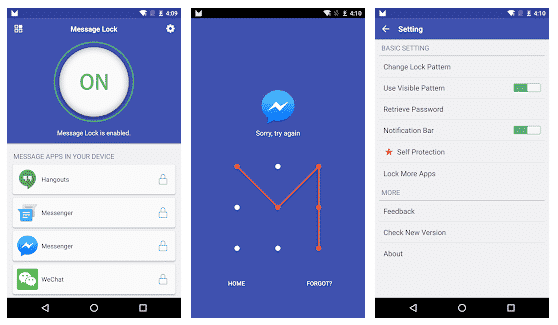 The SMS Lock or Message Lock app is quite different from other apps because it does not hide your SMS App, instead it locks your text message app with the PIN or Password. This is the simplest messaging locker app that locks your text messaging app with the password or PIN. It makes hiding your text messages easy by simply locking your text app that stands it among the best text hiding apps in Android.
5. Private Message Box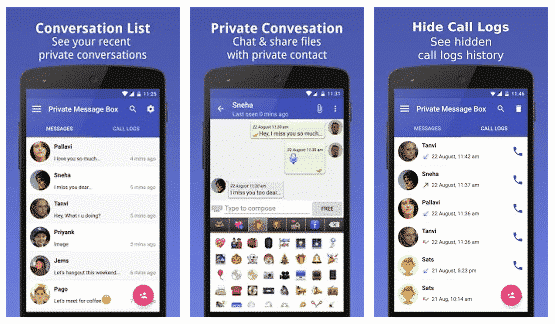 Private Message Box is functioning differently from other apps to hide messages by creating a Safe Space called "Private Space" for your messaging. Setting up the app on your android smartphone is very easy, it will ask you to create a password while initial setup that will be used to run the app in the future. After creating the Password/PIN you can import your contact & Messages in private messages those will be password protected.
6. Calculator Pro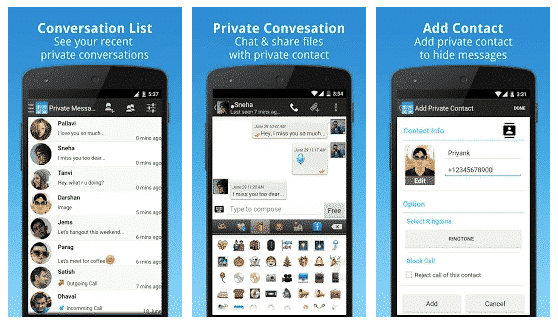 Calculator Pro is another text hiding app that is a calculator in front and a message hider inside. At the first look, someone may get confused by its name and frontend because it looks like a Calculator but it has features to hide your text messages on your android smartphone.
On the Calculator Pro Apps for accessing the hidden vault, you have to enter "123+=" in the calculator field. After entering you'll be taken to the hidden vault where you can hide your text messages.
7. Privacy Messenger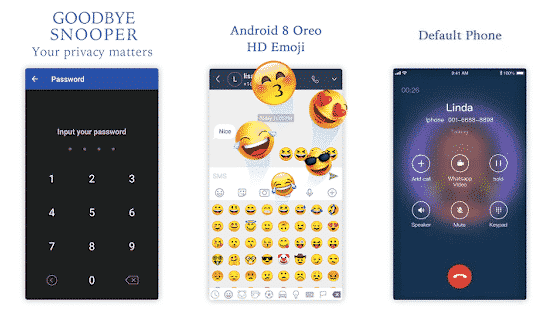 As its name suggests that this app is itself a Text Messaging App that can be used to replace the default messaging app on your smartphone. This app does not hide your text messages but you can use this app as your default messaging app to hide your messages because it has password protection. You can simply install this app and select this app as your default messaging application and all text messages will be hidden behind password protection.
8. SMS Plus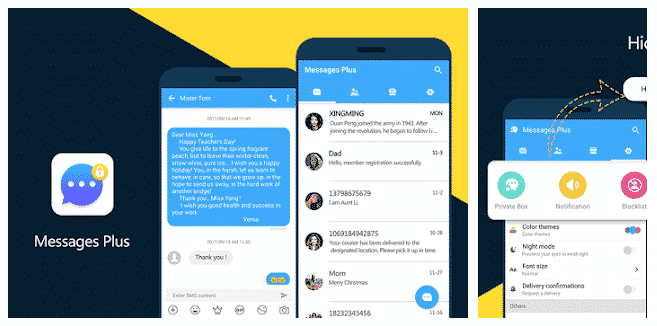 SMS Plus is another app to hide text messages on your android smartphone. This app is quite new in this segment but has a good rating on the play store. This app has two great features – first, it has two passwords, and second, it shows no messages when someone enters the wrong passwords. SMS Plus is a new application but it has great features that qualify to mention in our list of best text message hiding apps for android.
9. Picoo Messegner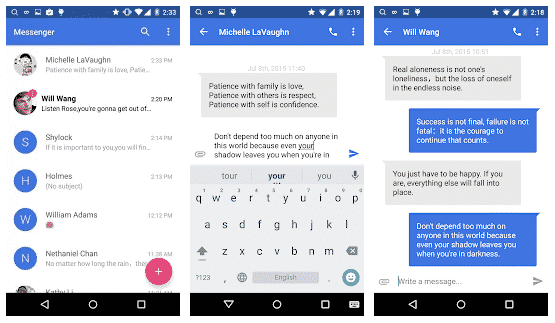 Here is another messaging app that can help you to protect your text message data vai changing the default messaging app to Picoo messenger. As its name suggests it is a messaging app that can be used as the default messaging app to hide your text data on your smartphone.
Bottom Line – Apps to Hide Messages
Here was the list of top message hiding applications that save your data on your Android device. You can easily choose your favorite message hiding app according to your usages & convenience. You can use any of the above-mentioned locker apps for Android to hide your text message and these apps protect your data from leaks via messaging apps. Some of these apps work fine for both as App Locker for Android and Text Message hider app.