Even after the advent of the digital age, books have still held their power over entertainment such as television and gadgets. When the internet was in its infancy, sceptics prophesied that this would be the end of books and reading. But they were far from right as paper books to hard books all the way to eBooks is still a frenzy and seen as the most refined entertainment out there. In the digital era, one has the opportunity to read books without needing to carry physical copies of them. 
100s of eBooks can be carried within one single device but does that mean that one needs to spend thousands of rupees on a tablet to enjoy reading them? This does not have to be the case, as reading on your windows machine gives you a similar experience to that of reading on a tablet. For this, the most important thing needed is an Epub reader application. By this, anyone can easily read and carry thousands of books on a single device. So, you can think that how much we improve in the technical area. 
There are many Epub reader apps for Windows out there but there are some that function better than others. Here below, you will find the 10 best Epub readers for Windows 10 but before that, it's important to understand what an Epub reader is.
What is an Epub reader?
 There is little difference between a physical book and an eBook. You can call it a digital version of your normal books. These eBooks are just file like PDF files but have much wider compatibility with various programs. You can read these eBooks by an Epub reader on your mobile, computer, laptop, and more such things. These Epub readers will help you get a real experience of reading the physical books on a device like mobile, laptop, computer, etc.  
How to open Epub files on Windows? 
It's quite simple and I think you know it, because if you can open a PDF file then you can easily open it in windows 10. But to open Epub files, you will need the specific apps that help you do so. Epub readers make reading on laptops and Windows platforms much easier and user friendly than just opening a pdf file. The Epub was started to cater to the needs of the people who wanted to read digitally and still not need to spend too much on another specific device just for that purpose. Epub apps can be downloaded online and here are the 10 best ones for you to choose from with the links to their site below. 
10 Best Epub Readers for Windows
1. Calibre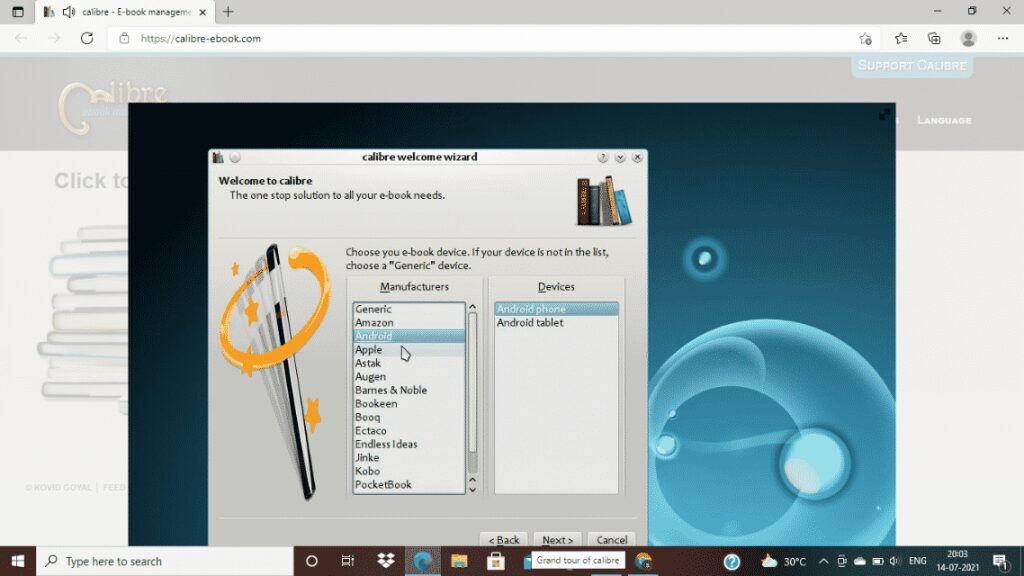 Calibre is one of the oldest Epub readers out there and also having so many features. You can easily download Epub apps, and also you can convert your books to any format. This app is not only good for reading books but is also perfect for comics, magazines and much more. Calibre is definitely one of the most reliable Epub readers out there.
Download here: https://calibre-ebook.com
2. Sumatra PDF Reader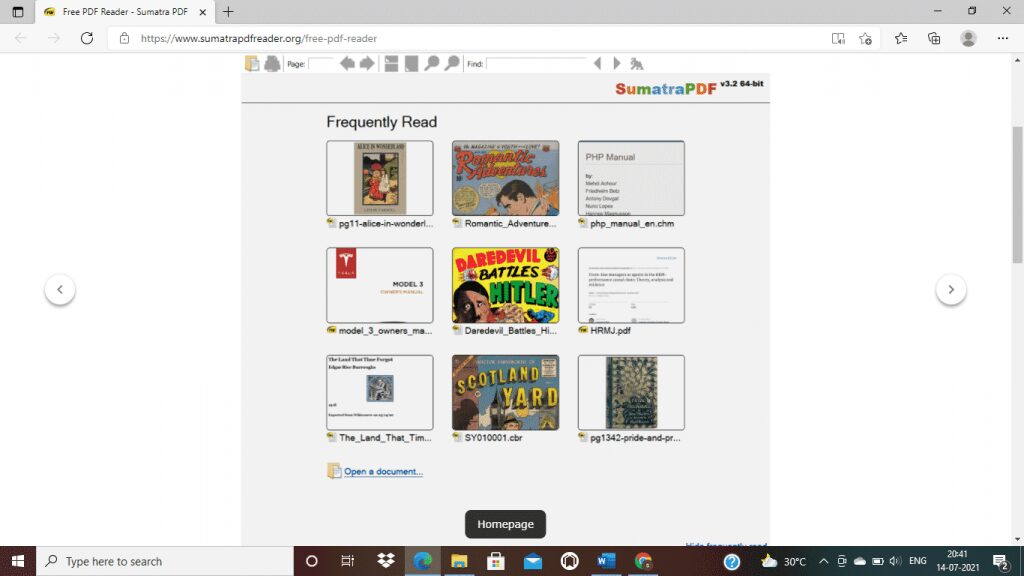 While calibre works great for most people, it does have a reputation for opening a bit slowly so the alternative to that is an extremely lightweight Epub that just works magic. It supports bookmarks, automatic text scaling and even background colour change. 
Download here: https://www.sumatrapdfreader.org/free-pdf-reader 
3. Freda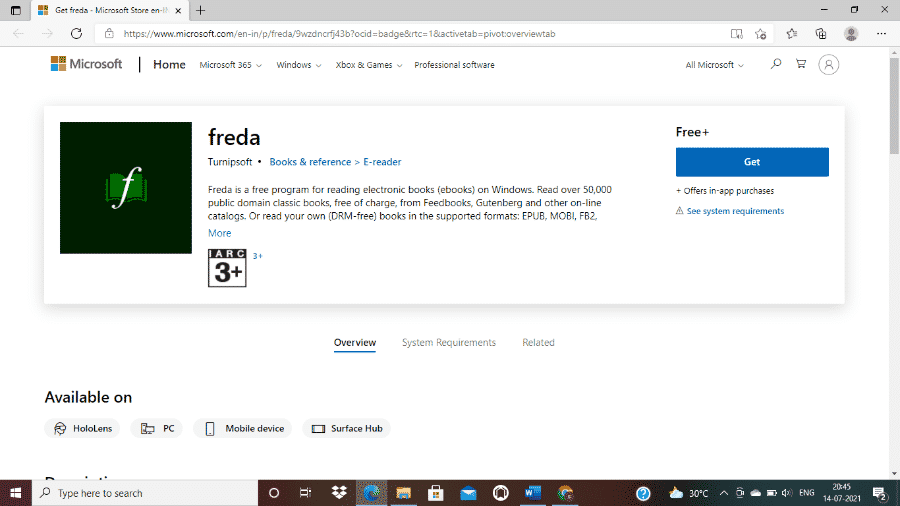 This is an all-time favourite for many Epub readers as you can really customize it according to your needs. One of the most interesting things about this app is you will get around 50,000 public domain classic books completely free of cost.  
Apart from supporting Epub, this application also can give you a way to enjoy formatting like TXT, Mobi, HTML, FB2. If looks matter to you, do give Freda a try.
Download here: https://www.microsoft.com/en-in/p/freda/9wzdncrfj43b?ocid=badge&rtc=1 
4. Kobo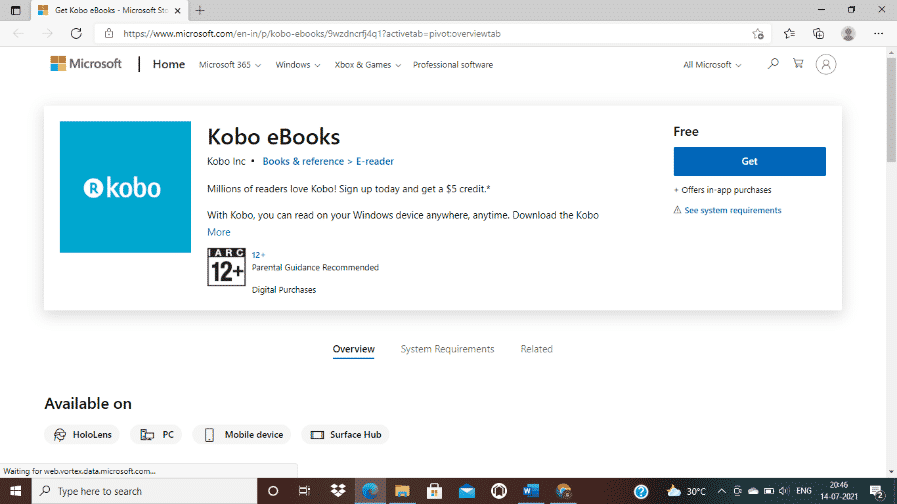 Just like Kindle, Kobo is an app that is not only an eBook reader but it is also a service that allows you to buy books from its store. However, the difference being that Kobo supports Epub formats. Apart from being able to purchase books, it comes with all the Epub features such as bookmarks, progress tracking and dictionaries. 
However, the biggest reason to get Kobo over other Epub readers is the store by which you can browse nearly 4 to 6 million free and so many affordable children's books, eBooks, and comic books.
So, if you want to be able to access and buy all the new eBooks that are released, this is one of the best Epub readers for Windows that you can get.
Download here: https://www.microsoft.com/en-in/p/kobo-ebooks/9wzdncrfj4q1?activetab=pivot:overviewtab 
5. Cover Comic Reader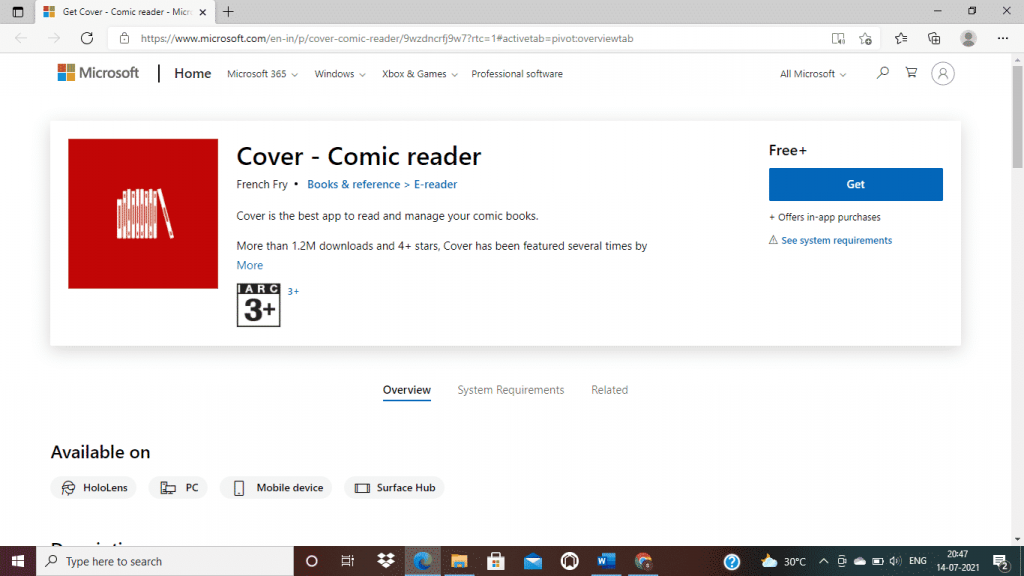 This app unlike the others is made specifically for reading comic books on your Windows but since it supports Epub formats, it has made its way to this list. This app is great for reading books that are image-heavy. Other apps do handle images well but this one was specifically made for books with pictures and drawings thus making the whole experience much better.
Download here: https://www.microsoft.com/en-in/p/cover-comic-reader/9wzdncrfj9w7?rtc=1#system-requirements 
6. Ice cream Epub Reader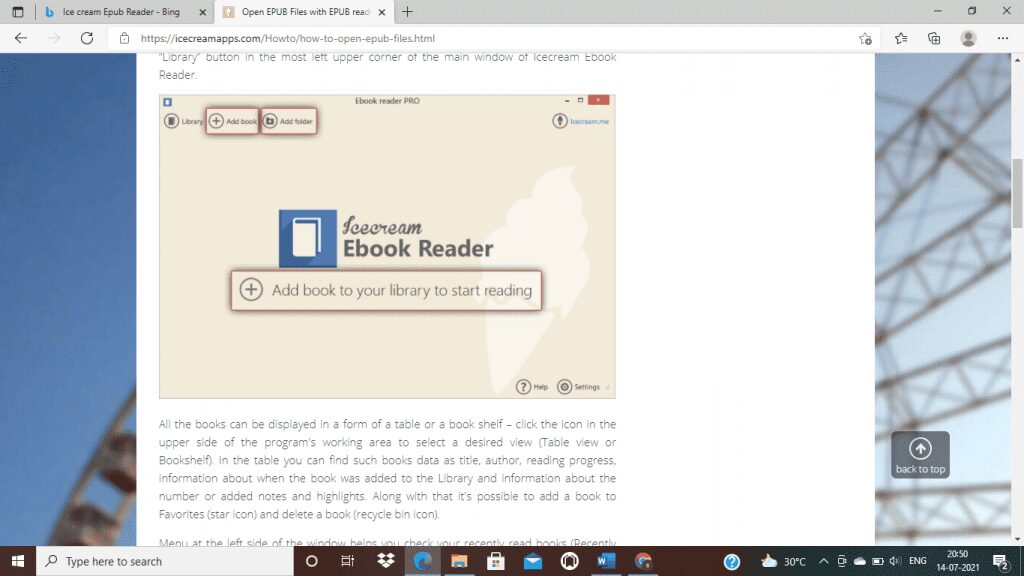 This app not only looks good but also brings with it a ton of features including search capabilities, full-screen mode support and easy page turning mechanisms. It also supports multiple file formats and languages.  You can even use bookmarks for future reading. Overall, it makes the whole experience quite user friendly. 
Download here: https://icecream-ebook-reader.en.softonic.com/download
7. Nook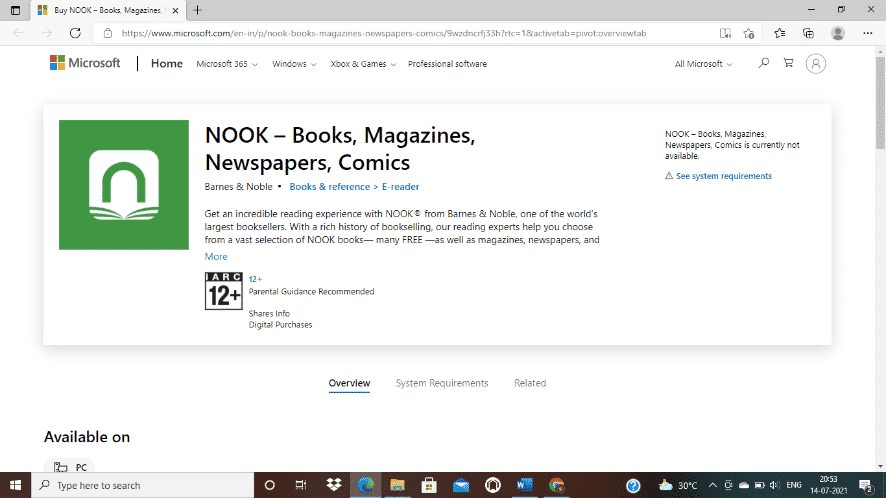 Barnes and Nobles is one of the largest, most famous offline chain of bookstores. It had a big success on Kindle, making them start their own online book service called Nook. With this app, you are not only getting an app to read Epub books but also a place to by them.
At first when you just sign up in this application then they will offer you a 14-day trial period, at that time you can check any type of eBooks, PDF, Magazine anything you need to check. But after that when this 14-day trial period will over then you have to buy subscription packs.
Download here: https://www.microsoft.com/en-in/p/nook-books-magazines-newspapers-comics/9wzdncrfj33h?rtc=1&activetab=pivot:overviewtab 
8. Adobe Digital Editions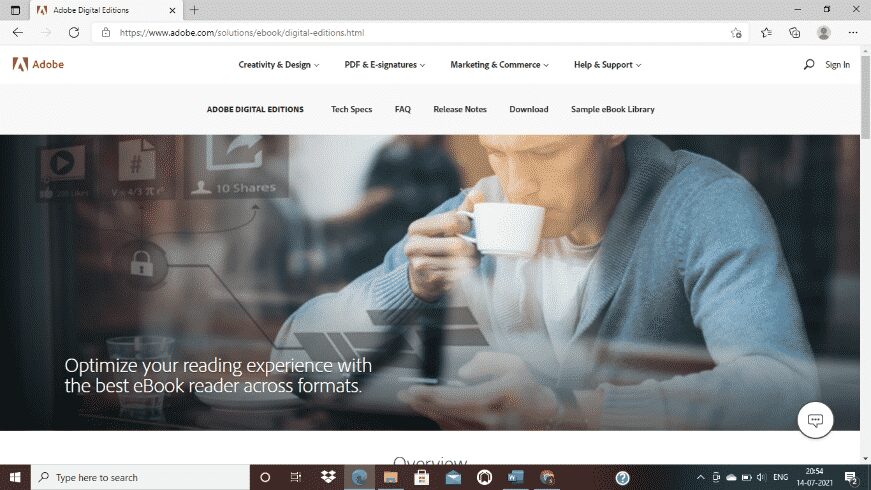 Adobe is known to make software for almost all forms of creating and consuming creative content. Adobe Digital editions are just another one of their great productions. It gives the users a richer reading experience by dynamic resizing of letters without loss in clarity and also gives the choice of downloading from local and private libraries. It supports multi-lingual, facilitates bookmarking, highlighting and taking notes. It's easy to sync books over devices and make the whole process much simpler.
Download here: https://www.adobe.com/solutions/ebook/digital-editions/download.html 
9. Bibliovore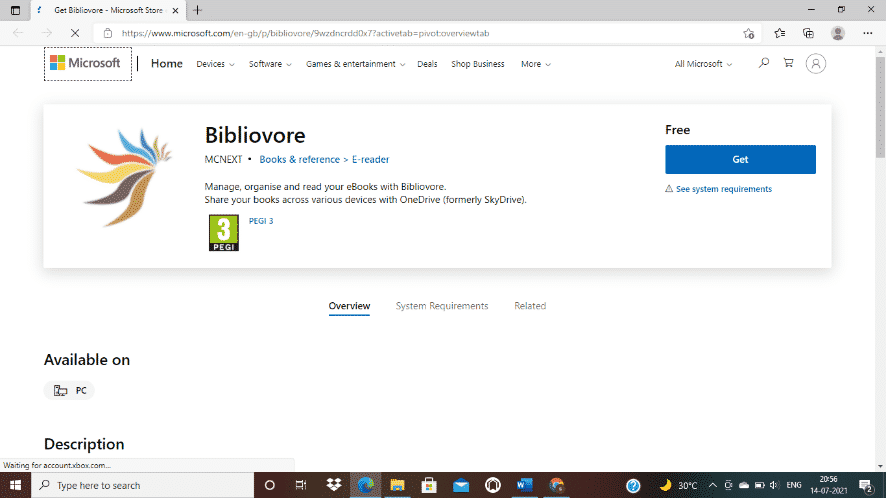 Bibliovore is yet another great Epub reader for Windows. This apps allows you to organize your books and manage large libraries with ease. It makes the job of adjusting parameters and reading themes much simpler. It's a good reading experience with support for theme and organization. It helps you group books into series or categories which makes the entire process much neater and enjoyable.
Download here: https://www.microsoft.com/en-gb/p/bibliovore/9wzdncrdd0x7?activetab=pivot:overviewtab 
10. Bookviser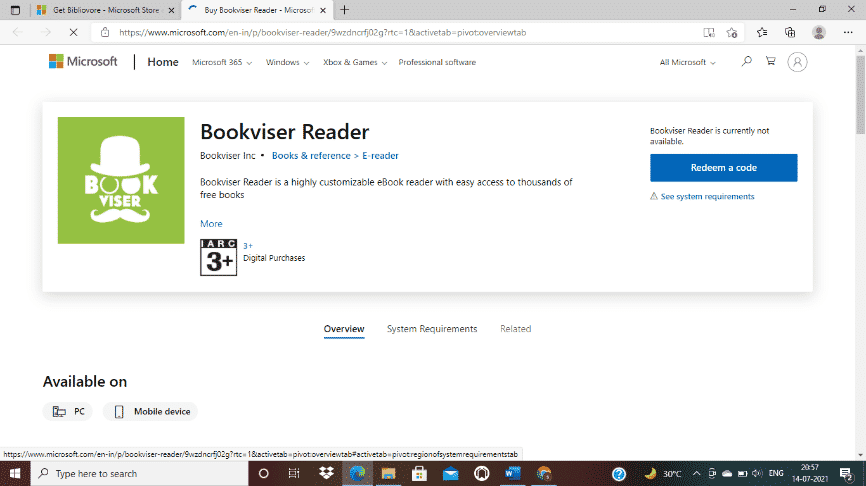 Here we come at the last Epub reader app, which is Bookviser, the thing which makes it more popular is any reader will get the same experience of reading a physical book. You will always feel like you are reading a real book. 
Just like Freda, this app will allow you to download free classics from public catalogues and allows you to use features like progress tracking and dictionary.
Download here: https://www.microsoft.com/en-in/p/bookviser-reader/9wzdncrfj02g?rtc=1&activetab=pivot:overviewtab 
Summary Line
These are the top 10 Epub readers on Windows but you can find what works best for you according to your needs and requirements. Taking into account each one's strengths and weaknesses, you can make your choice. All these apps work brilliantly on Windows and are catering to the needs of the people who want to access eBooks without having to pay a fortune for it.
According to popular consensus, Calibre seems to be the best Windows Epub reader out there but Freda is one of the better ones out there as well.
Once you choose your Epub reader, you can find the activity of reading becoming much more accessible and pleasant.  There are only 10 Epub readers but there are more out there for various other purposes.  You can choose any one of them, that pleases you and read and research more about them whether it is something you would like to invest in. Happy reading!
Epub Readers FAQs
is Epub Reader for Windows Free?
Most of the Epub Readers for Windows are free. You can go through the list above to choose which one suits your needs best.
How do I install Epub Reader for Windows?
You just need to click on the link provided below for each Epub reader and download it directly from there. Depending on your OS version, you can download the setup file.
is Epub Reader for Windows safe?
Epub readers do not usually pose a threat unless you download them from an unknown source. Make sure to download yours from their official website.