MediaTek and Snapdragon are the leading smartphones processors companies.  Recently, the two companies released their flagship mobile phone chips that support 5G SIM cards thanks to innovation. MediaTek's 1200 is a major upgrade to the 1000 chipset series. Snapdragon decided to answer MediaTek with 870 and 888 chipsets to spice up the competition. MediaTek and Snapdragon chipsets have pros and cons, and therefore deciding on which outperforms the other can be challenging.  Antutu and Geekbench are at the forefront of benchmarking the SoCs to help people make the right Smartphone purchasing decisions. This article discusses the features and benchmark scores of chipsets, including MediaTek 1000 and 1200.
Mediatek Dimensity 1000 Vs. 1200
MediaTek 1000 and 1200 are both 5G flagship smartphone processors. However, Dimensity 1200 is more powerful and a major improvement of the 1000 series. MediaTek 1200 packs incredible features and improved user performance anyone would love on a Smartphone. Both chipsets are based on 6nm architecture. However, the Dimensity 1200 has advanced hyper-engine enhancements to take the gaming experience on smartphones beyond. Look at the chipset comparison below and the benchmark scores.
MediaTek Dimensity 1200 CPU, GPU & RAM
The various aspects to look at include CPU, GPU, RAM type, Camera support, and fabrication process. MediaTek 1200 was launched in January 2023 as an upgrade of the 1000 chipsets.
CPU
GPU
MediaTek Hyper-Engine 3.0 gaming technology
ARM Mali-G77 MC9
The chipset supports Dual Cameras of up to 32MP +16MP @ 30fps with single 200MP single Cameras. MediaTek Dimensity 1200 is a 6nm chipset compatible with 16 GB LPDDR4x RAM type.
MediaTek Dimensity 1000 CPU, GPU & RAM
MediaTek Dimensity 1000 is an 8-core smartphone processor manufactured in 7nm architecture. The chipset's 7 nanometers process puts it behind the powerful 6nm MediaTek Dimensity 1200.
CPU
4 Cortex –A77 at 2.60 GHz
4 Cortex-A55 at 2.00 GHz
GPU
The chipset supports the LPDDR4X memory type with up to 16 GB. The flagship chipset was launched in November 2019 to support the 5G network connectivity. Moreover, it can support 4k videos @ 30fps with up to 80MP single cameras and dual 32 MP cameras.
Dimensity 1000 & 1200 Connectivity 
Mediatek Dimensity 1200 has the Helio M70 that supports sub-6GHZ with 5G-CA and 5G SIM cards. Also, it supports Wi-Fi 6, Bluetooth 5.2 with a dual-band for GNSS, GPS, Beidou, Galileo, NavlC, and QZSS. MediaTek Dimensity 1000 supports Wi-Fi 6, Bluetooth 5.1, and the band for GPS, GLONASS. Beidou and Galileo support. Moreover, the Dimensity 1200 has a Downlink of up 4.7Gbps and an Uplink of 2.3 Gbps.
MediaTek 1000 & 1200 Screen Support
MediaTek Dimensity 1200 supports QHD+ at 90HZ and FHD+ at 168 GH. However, the MediaTek Dimensity 1000 supports Full HD+ 120HZ.
Dimensity 1000 & 1200 Gaming Performance
The MediaTek Dimensity 1200 outshines the 1000 with its 3rd generation Hyper-Engine. The chipset also boasts a 3.0 Network, Rapid Response, PQ, and Resource management engine. Enhanced gaming features in the Dimensity 1200 chipset give Smartphone gaming lovers the best experience. MediaTek Dimensity 1000's 2.0 Hyper Engine gives less when it comes to the gaming experience. However, it has advanced network enhancements that boost picture and audio quality when gaming.
1000 & 1200 Video Recording
Mediatek Dimensity 1200 supports 4K video recording at 60fps with 2160p. Also, it supports 1080P and 720 P videos at 120 and 240fps, respectively. MediaTek Dimensity 1000 supports 4K video capture and playback at 30fps. Dimensity 1200 improved ISP system is responsible for quality 4K HDR video recording with greater dynamic ranges. Also, the imagiq Camera HDR-ISP supports bokeh videos, Al-Panorama night shots, and multi-person Al-segmentation.
Clock speeds
The MediaTek Dimensity 1200 has a single ARM Cortex A78 CPU with a clock speed of 3GHz. Also, it boasts three ARM Cortex A78 CPU cores with clock speeds of 2.6. Moreover, the chipset boasts four ARM Cortex A55 CPU cores with clock speeds of 2.0 Hz for efficient task performance. MediaTek Dimensity 1000 has 4 ARM Cortex A77 CPU cores with clock speeds of 2.60 Hz. The older A77 cores offer less in terms of performance as compared to the advanced A78 ones. Moreover, the chipset has 4 ARM A55 CPU cores with 2.00Hz clock speeds. Therefore, the MediaTek Dimensity 1200 has better CPUs that improve the overall performance of a smartphone.
Al Engines
These two MediaTek's 5G flagship chipsets boast APU 3.0 Al engines. However, the company did not reveal the number of operations the engines can perform.
Fabrication Process
MediaTek Dimensity 1200 is based on the 6nanometer (nm) fabrication process, while the Dimensity 1000 has a 7nm fabrication process. Here, the Dimensity 1200 also dethrones the Dimensity 1000 with a better CPU fabrication process.
MediaTek Dimensity 1200 and 1000 Benchmark Scores
The MediaTek Dimensity 1200 scored 631,739, while the Dimensity 1000 got 515,561 on the AnTuTu benchmark test. However, Dimensity 1200 scored 941 single and 3327 multi-core scores. The Dimensity 1000 scored 798 in single and 3065 on multi-core score.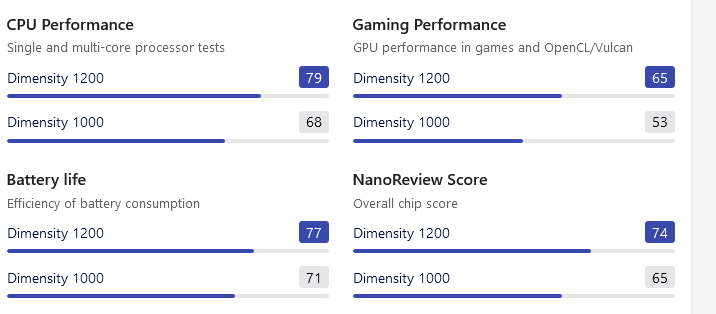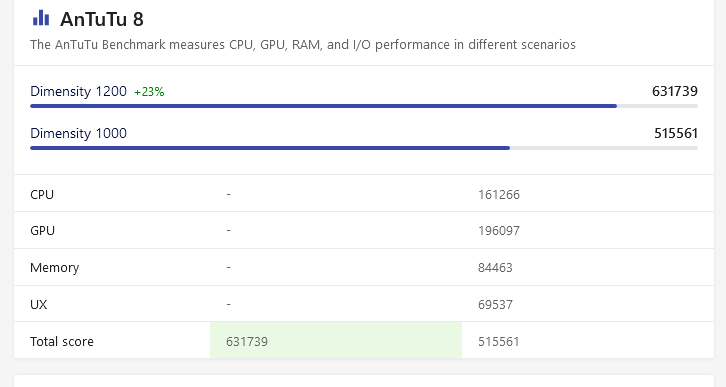 Summary – Dimensity 1000 vs 1200
Both the SoCs are great in performance while is MediaTek 1200 is top of the line and 1000 is following it up. It was the comparison between MediaTek 1000 & 1200 SoCs and their performance along with Antutu & GeekBench benchmarks.