Playing video games on a PC is also an opportunity to take video captures of its performance. While some solutions are well known, others are less known but are effective. Here is a quick overview of the best Windows game recording software to record your PC screen. Also, we've collated a list of the best sites to download PC games.
Best Game Recording Windows Software are:
1. Shadowplay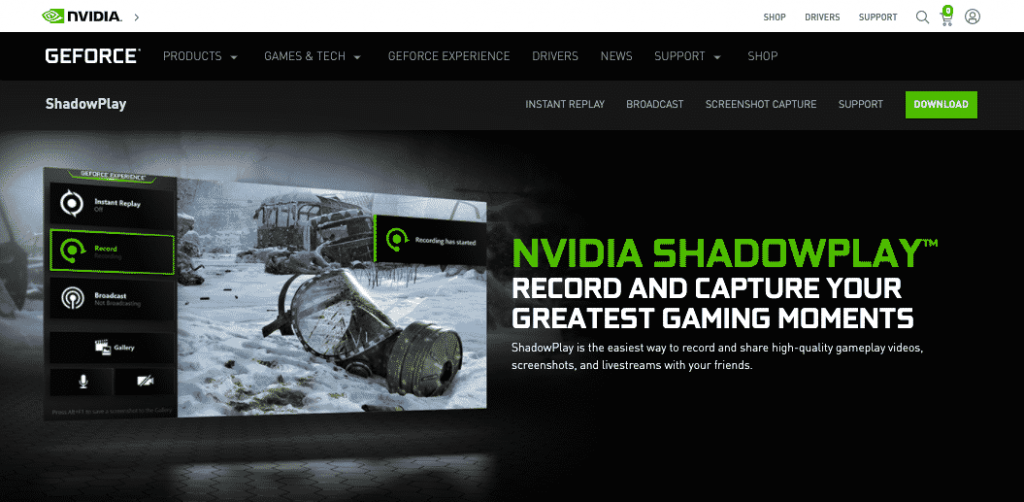 Since late 2013, Nvidia has offered Shadowplay as part of its Nvidia GeForce Experience solution. Intended to compete with software hitherto obvious for PC players, such as Fraps, Shadowplay allows capturing game sequences in 1080p in particular, and this, without undergoing any slowdown in games. However, you must have at least a Kepler architecture graphics card to use this game's recording software. You can check getbestelectronicsfind.com for more help with finding the best PC for you. 
Over the versions of Nvidia GeForce Experience, Shadowplay has improved. The games recording software allows you to choose the recording definition (1080p, 720p), the framerate (60 fps, 30 fps), the bitrate… To use it, it's very simple: a press on the chosen keyboard shortcut and the software takes care of recording the last 20 minutes of play on the hard disk, which means that you can record a video game exploit after having achieved it! A manual mode allows, moreover, to record its parts without Finally, the last advantage: Shadowplay does not only record videos locally but can also be used to stream on Twitch. A most effective tool, therefore, even if it is reserved for owners of a compatible graphics card.
2. Fraps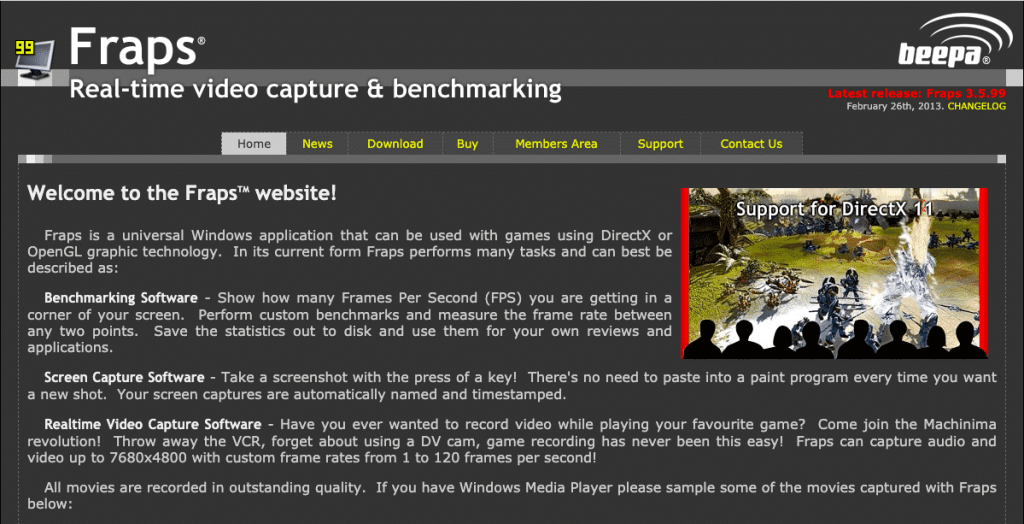 Fraps is certainly the video game capture software, but also screenshots, the most famous for PCs. However, it is far from being the most up to date, since the latest version, 3.5.99, still dates from February 2013! In fact, the recording software for games is presented as compatible up to Windows 7. It also works under Windows 8.1, but on Windows 10, the situation varies according to the users.
To have all of Fraps' functionality, you have to pay 35 euros. A price that allows us to save screenshots in JPG, PNG, and TGA, and to make full-screen video captures without watermarks. It is strongly advised to use the trial version to ensure that the software works well on your machine, especially if you are using Windows 10.
Fraps offers many features and is easy to use. But it has two drawbacks: it is greedy in system resources and in disk space. It is capable of capturing videos up to 7680 x 4800 pixels with a framerate ranging from 1 to 120 fps. But better to have a competition config and a lot of space on its hard disks to hope to draw the full potential!
3. Bandicam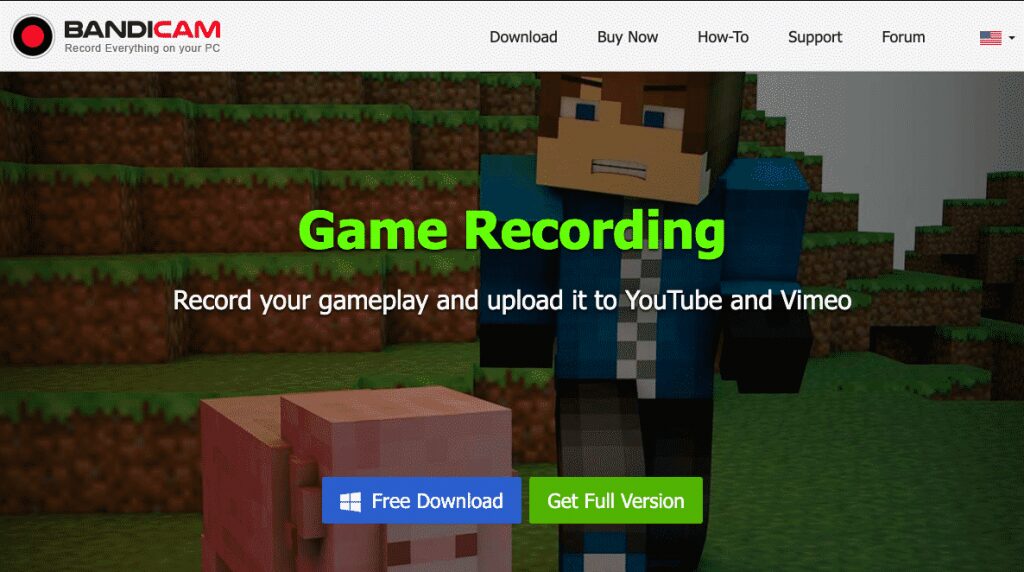 Bandicam is a recording software for games that comes from South Korea, but available in English. Aesthetically refined – all the same less than Fraps! -, it allows not only to record your game sessions, but also the desktop screen and many software.
To get all the features, you have to pay 33 euros. For this price, you can make videos going beyond 24 hours – subject to having the necessary space on the discs – up to a definition of 3840 x 2160 pixels. Files are cut into 3.9 GB of data, just like Fraps.
However, since Bandicam encodes videos more efficiently, they last longer before reaching the authorized limit. Many codecs are available to users, both for video and for audio. Regarding the sound, moreover, it is possible to record two separate sources at the same time.
Among the functions useful to Youtubers, there is the possibility of automatically affixing a logo within the recorded video and sending it directly to YouTube, without prior conversion, in 1080 or 720p. Bandicam updates are frequent, making it a good investment for fans of video captures and screenshots.
4. Movavi Game Capture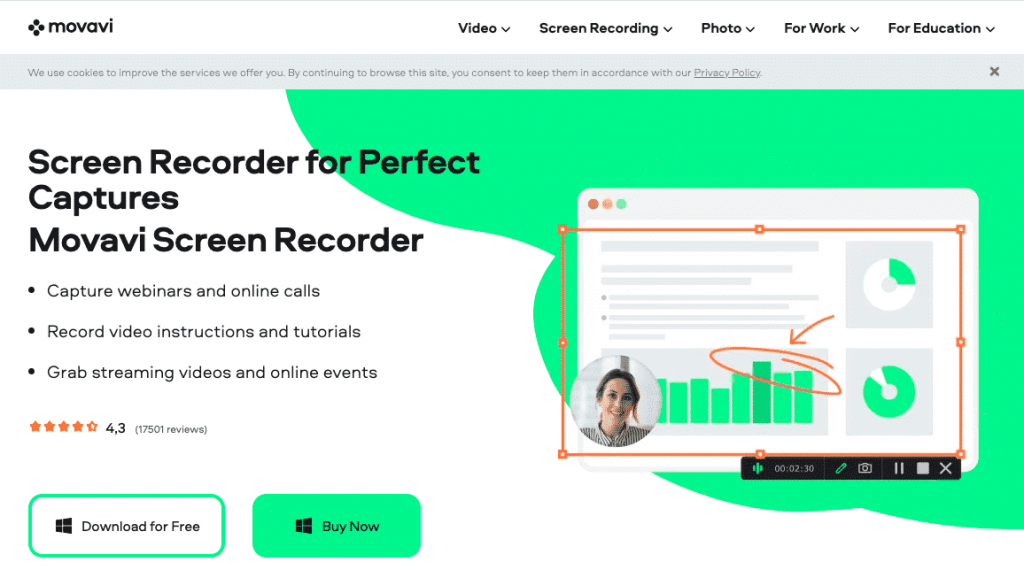 Movavi may be present on the market for many years, but it is far from the best known. However, these games recording software offers many possibilities for configuration.
It is capable of recording up to 60 fps: once the settings have been chosen, it is then enough to start capturing during a game by pressing F10. As with any other software, the length of the recordable video depends on the storage capacity of the hard drive.
By default, the recording is done in AVI format, but you can choose a multitude of codecs (MP4, FLV, MKV …), as well as many presets to optimize viewing on mobile devices. The same goes for sound since Game Capture supports a large number of formats (MP3, MWA, WAV, FLAC …).
Movavi Game Capture costs $ 30; however, you can try it out for a week before checking out. The software is offered in full in French.
5. Dxtory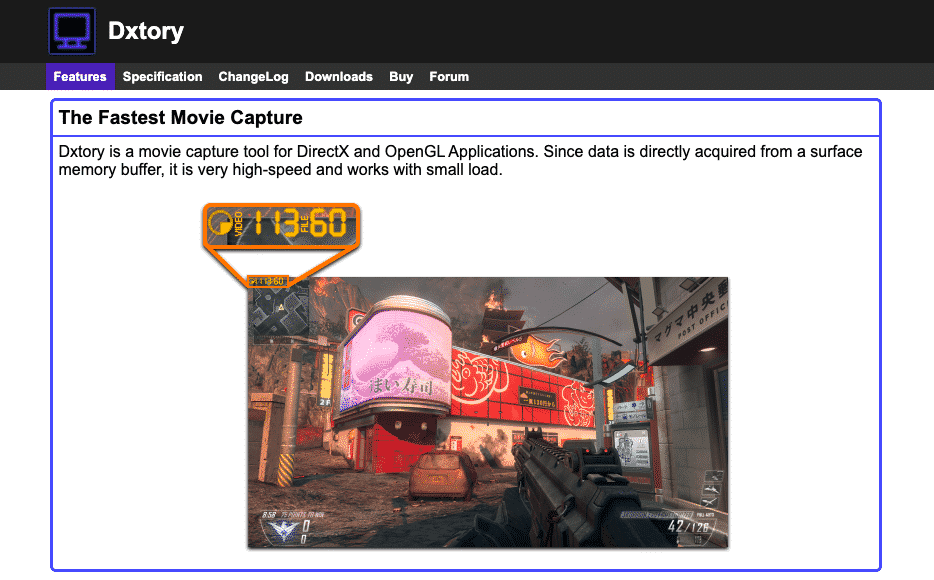 Efficient, inexpensive, and regularly updated, Dxtory is an attractive alternative to other, more well-known clients dedicated to ingame captures. The license is paid in yen for the equivalent of 25 euros. For this price, it is possible to access many features through an ergonomics, which is, however, not particularly accessible to beginners; it must be admitted. Fortunately, there are many tutorials on the Internet to help you understand the subtleties of Dxtory.
One of the interesting features of the software is that it can support any codec installed on the machine: even the Fraps codec if it is present! And it doesn't stop at the video: the same proposition is made on the sound side. Note also that it is possible to record up to eight audio tracks separately. The most recent software update ensures compatibility with DirectX 12 as well as Windows 10: yet another argument for dropping Fraps in favor of the competition, cheaper and more efficient!
6. PlayClaw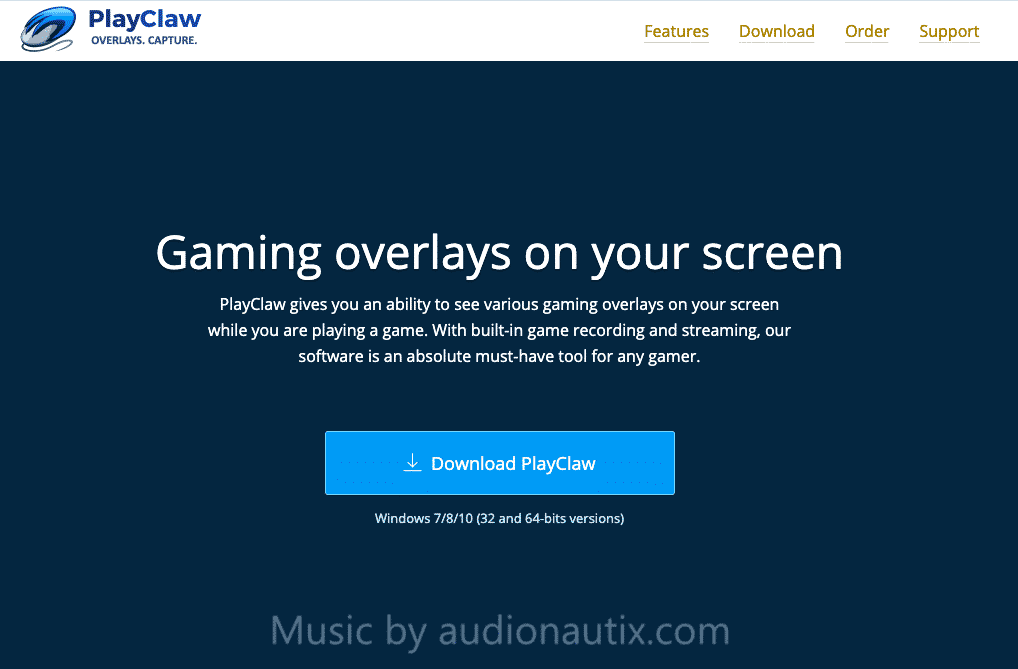 PlayClaw is an alternative to Fraps et al., Which has the advantage of offering a pleasant interface and entirely translated into French: this is an obvious advantage when you want to delve into the in-depth settings of your video captures. The software is also capable of displaying a large amount of data during recording and is not limited to simple framerate, as is often the case for this type of software. The adjustment of the size of the video, the framerate of the capture (from 5 to 60 fps), or even the possibility of recording a particularly large number of audio tracks, are among the advantages of the software.
However, PlayClaw has disadvantages that penalize it in the face of the competition. Its price, first of all: 39 dollars, or about 35 euros. Second, the software has a strong impact on gaming performance when using the H264 codec. It is, therefore, rather be reserved for owners of powerful machines. As with other software, you can try it out, thanks to a free downloadable demo.
7. Action!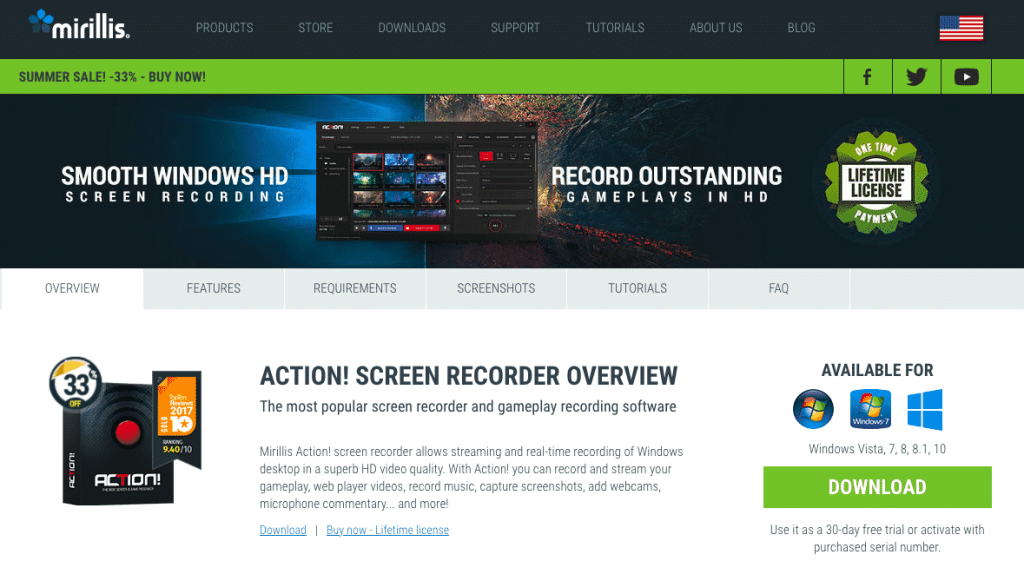 Published by Mirilis, Action! does not reinvent the wheel compared to the other software discussed here. On the side of the original functionalities, we note above all the possibility of recording the flow of a webcam at the same time as that of the game, to then carry out an assembly of the two. The tool is mainly intended for fans of live on platforms like Twitch, for example: it should however be specified that to use Action! live on a dedicated platform, you have to pay the Live option which costs $ 2.95, and which is added to the $ 29.95 requested to buy a software license.
Action! is capable of capturing high quality games (240 to 1080p and above) in AVI and MP4 formats and up to 60 frames per second. You can record sound on multiple channels, which is always useful when using a microphone. For the rest of the features, it turns out to be very close to what the competition offers, and it unfortunately displays a defect that is often encountered: that of being resource-hungry. The software tends to cause framerate drops when used on small machines. Again, the best way to judge its performance is to test its 30-day trial version.
8. MSI Afterburner Predator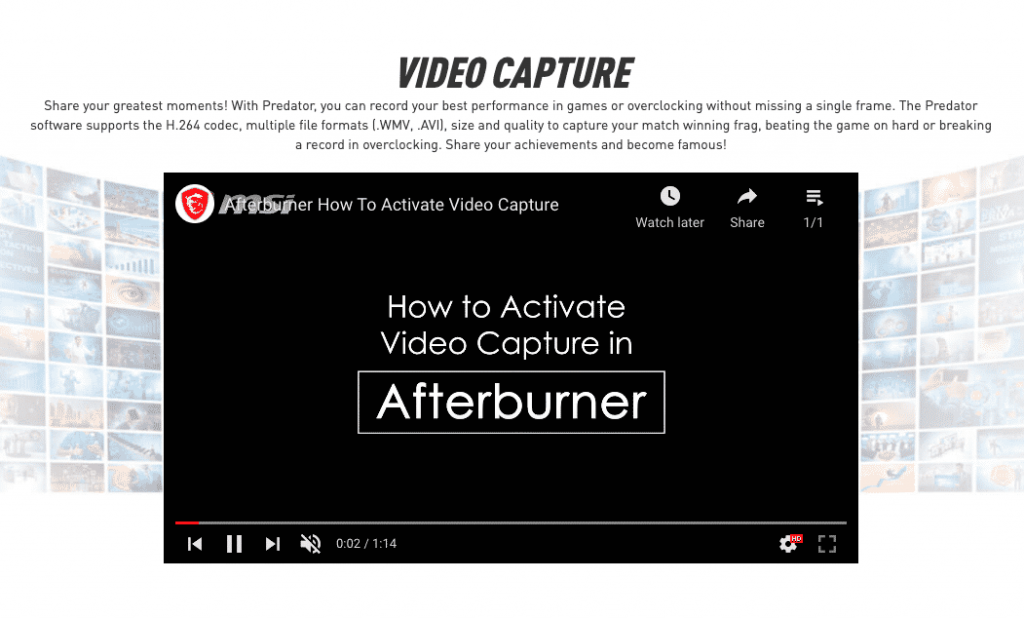 MSI Afterburner is a software for personalization, and therefore of overclocking, as well as monitoring for graphics cards signed MSI. It has, moreover, the particularity of providing the Predator tool allowing to carry out video captures in game. The software is not however limited to MSI cards and offers many functionalities accessible to the owners of a graphics card of another brand … including the Predator part.
Free and resource-efficient, Afterburner Predator gets straight to the point when it comes to gaming video capture. If it is possible to use almost all the codecs installed on the computer, to adjust the framerate, the definition, and the image quality, it leaves aside the possibility of recording audio tracks separately or a streaming webcam. Finally, the software is greedy when it comes to recording videos in H264: the quality of the image and the good management of the disk space are paid for. However, we will not be choosy, the software is free and, provided you have a good configuration, it does most of what you ask.
Bottom Line
Here was the list of the feature-rich & best Game Recording Softwares for Windows PC to record with. The above-mentioned software will definitely help you to record Games on your Windows Laptop or PC with ease.