Google hides its features before release behind the "Flags" – known as Google Chrome Flags. You can enable these Flags to get an enhanced browsing experience. Here is the list of best Chrome Flags for PC to enable enhanced browsing on your browser.
What are Google Chrome Flags?
Google Chrome Flags are the set of experimental features that are made available for use before their official release. In other words, Google Chrome release some beta features that can be accessed via enabling Flags in Chrome before the final release. We all know the Google Chrome Browser is a widely used browser. That is why its developers are continuously developing it further to make it more user-friendly and advance.
These flags experimented on the Chrome earlier versions. Even today some of these flags may work irrespective of the version of your browser.
Must read about Best PC Optimizer & Best Driver Updater Softwares to run your PC smoothly.
How to Enable Google Chrome Flags?
As we know that the Chrome Flags are a set of experimental features that is why they may be buggy or even may crash your browser after Enabling the Flags. So, before learning the How to enable chrome flags on your browser you should be aware of if your browser crashes after changing the setting, how to restore it.
Google showing a clear warning about the crashing browser after enabling the flags. Here you can reset all the settings in case of a crash by running the following in the address bar – chrome://settings/reset.
Here is how you can enable the Flags on your Chrome browser:
#1. Type "chrome://flags" or "about://flags" in Omnibar/SearchBar.

#2. Once Flags are open, you'll see a long list of Chrome Flags (as shown in the image below) along with the option to Enable or Disable the flag.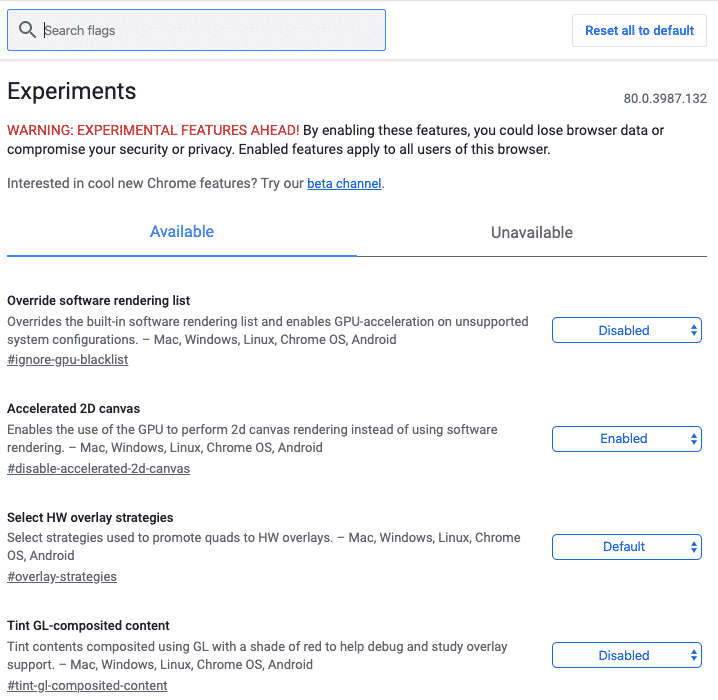 #3. Find your desired Google Chrome Flag to Enable or Disable.
#4. When you select the Enable or Disable the Flag, that browser will be re-launched to effect the changes.
#5. If you find that after enabling the Flag in Chrome, your browser is not running smoothly then you can reset the Flag Setting by hitting the Reset All button on the top right corner of the screen (as shown in the below image).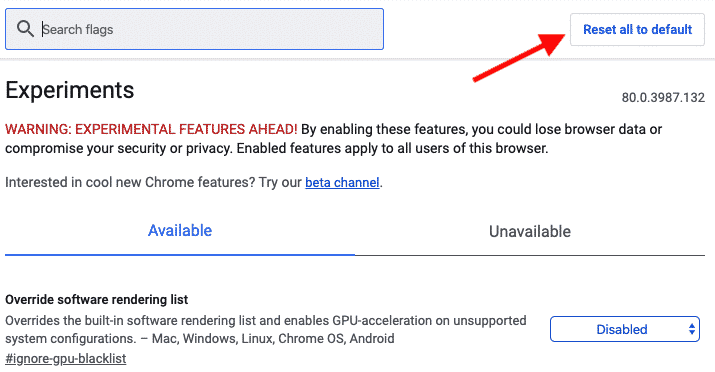 Here is the list of best flags to enable in Chrome browser to enhance the browsing experience.
What are the Best Google Chrome Flags
The best Google Chrome Flags are:
1. Smooth Scrolling
Among all the best chrome flags this chrome flag has the ability to rank first. Ever observe, your scrolling stutter or sluggish? There might be a lot of reasons for that. However, this Chrome Flag may be very possible to enhance the performance. To install this flag on your Chrome browser, just search for "Smooth Scrolling" inside the search bar and enable it. This flag is available for a vide range of operating systems from Android to Windows, Linux, and Chrome OS.
2. Password account data storage
Some people choose not to sync their Chrome browsing data on all devices. If you are someone like that and also want to protect your valuable password, then this chrome extension will help you to do so. You can do it from different devices using chrome browser. Search for "Enable account storage for passwords" in the Chrome flag menu and enable it from dropdown menu.
3. Experimental QUIC Protocol
Some Chrome flags make browsing faster. QUIC is Google's proprietary protocol designed to speed up the Internet experience. Enabling this feature will speed up the process, but only if the website is optimized for it.

4. Reader Mode Chrome Flag
The Internet is a treasure house of information, full of materials, opinions, and information. It is a pleasure for readers, but we have to admit that the Internet is not always suitable for reading. It is full of pictures, advertisements, and so on—distracting elements.

5. Force Dark Mode for Web Contents
Google Chrome 78 introduces a new feature called Forced Dark Mode, which can force a dark theme for each website, regardless of whether the website supports it or not. This "dark mode" refers to website content and should not be confused with operating system dark mode or browser user interface dark mode. These dark modes are related to the colors of the operating system and the browser user interfaces elements and have nothing to do with the website color scheme.

6. Heavy Ad Intervention
In most cases, Google Chrome does an outstanding job of reducing blatant online advertising. However, if you want more aggressive ad detection and blocking in Chrome, you can use the Chrome Adware Heavy flag. With this flag, Chrome will actively start blocking resource-intensive ads on your system. As a result, you will see fewer ads, and your web browsing will be faster and smoother.

7. Share Webpages Using QR Codes
It is one of the newest flags of Google Chrome, designed to make link sharing easier. Well, unless you sign in with the same Google ID on Chrome desktop and mobile devices, there is no easy way to share links on mobile devices. Well, when you turn on this flag, you will be able to share the link in a few seconds. To do this, open the Google Flags page and search for "QR." Now activate the flag "#sharingqrcodegenerator." After doing this, you will see the "QR code" symbol next to the bookmark (asterisk) in the address bar. Click it, and Chrome will show you the QR code corresponding to the webpage in the current tab. Scan with your phone to open the link on your smartphone, but as I said, this is a new flag, so it is only available in the latest version of Google Chrome Canary. If you are one of them who is using a stable version of the browser chrome, you may have to wait a few minutes. You can access this sign weeks before.
8. Treat Risky Downloads
First of all, this flag is not for everyone. However, if you want to introduce the Internet and web browsers (Chrome in this case) to newbies in the entire Internet world, you should check this flag. It can be run on your computer as EXE, DMG, DEB, etc. Chrome does this to prevent hobbyists from accidentally downloading malware or adware. This flag also contains downloads from unsafe sites.
9. Enable Files Trash Folder
By default, Chrome OS does not have a trash folder or a Recycle Bin, but this feature is helpful because sometimes you accidentally delete something from your Chrome book and do not want to return it. You can use this Chrome flag to get the trash folder in Chrome OS.
10. Share Clipboard across devices
You can share any content you copied on your smartphone (such as URLs and large sections of text) and quickly paste it onto your desktop. How cool to enable it? Search for "clipboard" and enable "sharedclipboardui" and "shared clipboard receiver." You may also need to allow this flag on the Chrome desktop. Then select the text on the smartphone and click Share. You can now choose to share the Clipboard with the Chrome desktop in the sharing menu. Your desktop will be automatically copied to your Clipboard.
FAQs
What are the Google Chrome Flags?
The Google Chrome flags are the experimental features that are released for the developers to test them before the official release.
How to use Chrome Flags?
You can use Google Chrome Flags on your Laptop or Desktop Chrome browser by searching the following in search bar – "chrome://flags" or "about://flags".
How to enable the Chrome Flags?
You can go to the Chrome Flags page by typing "chrome://flags" or "about://flags" in Omnibar/SearchBar and hit enter. This will take you to the available Google Chrome Flags page. Here on this page you can search desired Google Flags and also you can enable them.
How to disable Google Chrome Flags?
First you need to reach the chrome flags page by typing "chrome://flags/#tab-hover-cards" in search bar and hit enter to reach the Flags. Now here you can disable the flags using the dropdown options.
What are the best Chrome flags?
Some of the best chrome flags are Zero-Copy Rasterization, Show Autofill predictions, Pull to Refresh on PC, Tab freeze and discard, Parallel downloading, Enable QUIC, Override software rendering list, Lazy image loading, Full URL display, etc.
How to open Chrome Flags on Phone?
Simply type the "Chrome://flags" in the search bar of the phone and hit enter/search icon. You will be taken to Chrome Flags on your Mobile phone. Here you can enable the flags that you desire.
How to enable Chrome Flags on Android?
Open the Chrome Browser in your Android Phone and type "Chrome://flags" in the search bar and hit enter or search icon. You will the Google Flags page next to where you can enable the desired chrome flags.
Bottom Line
Here I've discussed the best chrome flags that can be enabled to enhance the browsing experience. You can also get the procedure to enable the Chrome Flags along with resetting all the settings.